Welsh National Opera's Ainadamar at Milton Keynes Theatre is a stunning, captivating and unique spectacle
Last spring, I had the pleasure of watching the Welsh National Opera's performance of Blaze of Glory at the Milton Keynes Theatre.
Watch more of our videos on Shots! 
and live on Freeview channel 276
Visit Shots! now
Needless to say, I was thrilled to hear they were returning to perform two highly acclaimed works, Ainadamar and Verdi's La Traviata, this week.
Ainadamar is the first of the two operas performing this week. It is a unique blend of Flamenco, poetry, and opera and is a first for the company as they sing the work in Spanish.
Federico García Lorca was a renowned Spanish poet and playwright who was killed during the Spanish Civil War in 1936. The place where he was executed was called Ainadamar, which later became a significant part of his legacy and mythologization as one of Spain's greatest writers. Osvaldo Golijov's opera Ainadamar is a tribute to Lorca, which is narrated through a flashback by his muse and collaborator, the actress Margarita Xirgu.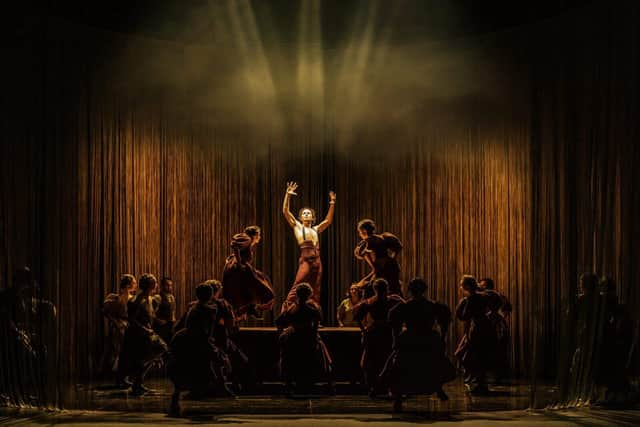 Deborah Colker, the internationally renowned and Olivier award-winning Brazilian choreographer, best known for her work with the Rio 2016 Olympics and Cirque du Soleil takes the Director's Chair alongside conductor Matthew Kofi Waldren.
Featuring an international cast, they are joined by Jaquelina Livieri, Soprano as Margarita Xirgu, Hanna Hipp, Mezzo-soprano as Federico García Lorca, Julieth Lozano Rolong, Soprano, Alfredo Tejada (Ruiz Alonso) Andalucian flamenco singer, Annie Reilly and Beca Davies.
A simple yet ingeniously designed set, composed of a circular fringe curtain transformed the stage from scene to scene and with the beautifully subdued lighting, spectacular projections, sound effects and very clever and creative moving set, a chilling and intense atmosphere emerged.
The orchestra were utterly stunning, performing music with a complex fusion of rhythmic Latino with an overtone of Arabian. This provided the soundscape to the beautifully inspired and at times balletic choreography and the accompaniment to the dissonant sounds of the singers, whose beautiful voices delivered to perfection. At times we were also treated to on-stage performances with the Spanish guitar and cajon.
This almost 'Matthew Bourne meets Opera' production, is a stunning, captivating and unique spectacle. Welsh National have delivered again and I can't wait to see La Traviata next.