Milton Keynes business leaders encouraged to Sleep Out to tackle homelessness and hardship in the city
Milton Keynes College is to host a sleepout by city CEOs to help combat homelessness.
Watch more of our videos on Shots! 
and live on Freeview channel 276
Visit Shots! now
Business bosses are urged to take part in support of four local charities offering vital lifelines to people with nowhere to live.
Business leaders in Milton Keynes are being urged to brave the cold and spend a night sleeping outdoors to help tackle homelessness and hardship in the city.
The CEO Sleepout Milton Keynes is taking place on 16th November at Milton Keynes College's Bletchley campus. Up to 100 participants will be sleeping outside to raise money for four local charities who provide vital support for local communities: St Mark's Meals, Milton Keynes Food Bank, The Bus Shelter MK and YMCA MK.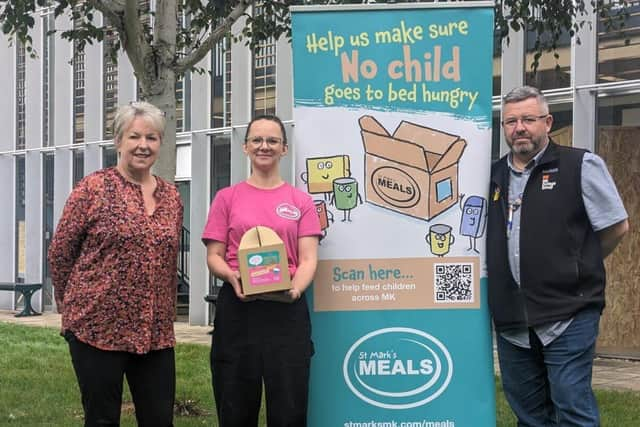 Currently, Milton Keynes has one of the highest rates of homelessness in the UK while rising rents and the cost-of-living crisis are pushing more people onto the city's streets. According to the homelessness charity, Shelter, there were 2,336 people housed in temporary accommodation across the city last year, while on any given night, 18 people slept rough.
"That equates to one in every 122 people in Milton Keynes who go to bed without a secure roof over their head – that's a shocking figure in this day and age," said CEO Sleepout Chief Executive Bianca Robinson. "The aim of CEO Sleepout is to bring awareness and unlock compassion around this all while raising big money for charities who are working so hard to help people change their lives – and we need you, the business community, to help us."
Having launched in 2013, CEO Sleepout has raised almost £4m for charities and good causes trying to tackle Britain's worsening homelessness and hardship problems.
Milton Keynes College are proud to be hosting the CEO Sleep Out for the first time, with CEO and Group Principal Sally Alexander saying: "Everyone at MK College Group is very proud to be hosting the CEO Sleep Out for the Milton Keynes business community. So many people in and around Milton Keynes are struggling right now, and it's heartening to see so many people coming together to raise money for vital charities and make a difference to our communities."
"I'm sleeping out on 16th November, as are two colleagues from the College Group. We're raising money for St Mark's Meals, an incredible charity who provide dinner kit boxes to schools and children's centres all across MK so that any teacher can give a Meals box to a child when they see that they are going hungry. 18,000 local children are living in poverty right now, and charities like St Mark's Meals are working hard to make sure that no children in Milton Keynes are going to bed hungry."
One business leader who has played a pivotal role in previous Milton Keynes sleep outs is CEO of Concept Personnel, Jo Carter. Jo was recently named an ambassador for the charity and said the event was of "vital importance" to those experiencing homelessness. "It's a transformative experience that not only raises crucial awareness about homelessness but also challenges our perspectives," added Jo. "It's a humbling experience, reminding me how lucky I am to have a home. I urge others to join this cause, to raise both funds and awareness, to support those who need it most."
In 2019, the Government vowed to "end the blight of rough sleeping". However, figures published earlier this year showed that across the UK, rough sleeping had risen for the first time in half a decade. And last year, Shelter ominously warned that there would likely be a "sharp rise" in homelessness across the UK amid the gloomy economic situation.
With the problem in Milton Keynes particularly difficult, Bianca said it was vital that the CEO Sleepout returned to the city to raise both money for charity and awareness of the current problem – and has called on the business community to "pull together and play your part". "Sleeping outdoors in November may be a daunting prospect, but for some that is an unwanted daily reality," she added. "By signing up, you will unlock a deeper understanding of just how hard life on the street can be for those who don't get to return to a warm house, or a loving family. "Despite the cold, the CEO Sleepout events are filled with warmth – from inspiring stories and a sense of togetherness – whilst you also have the chance to raise much-needed money that could potentially change local lives forever."
One of the 2023 participants is Amanda Wright, creative director and founder of Yellowyoyo. She took part five years ago and is "grateful for the opportunity" to return. "Taking part in the 2018 CEO Sleepout gave me a glimpse into the tests of sleeping outside. I was fully aware of course that I'd be safe at home the following night and that many don't have that luxury," added Amanda. "One night outside can in no way equal the brutal reality of a homeless experience, but it's a humbling way to partly appreciate the hardship, acknowledge the comforts we may easily take for granted and to step up to help in some small way. I'm proud to take part again this year, alongside leaders seeking to make a difference."