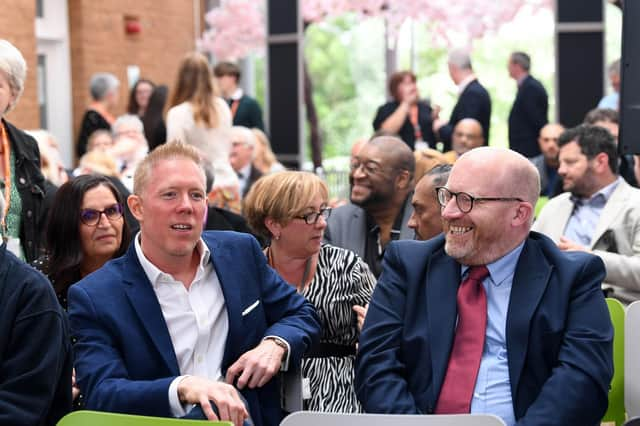 Could your business use a first-class meeting and workspace?
As well as offering a first-class space for businesses the Chaffron Centre also offer's the region's companies a range of business-focussed training opportunities.
On Wednesday, May 25, The Chaffron Centre hosted an official opening event and ribbon-cutting ceremony. Guests from across MK attended to celebrate the grand opening and to see Shalom Lloyd cut the ribbon.
Now fully open and fully equipped to support your business requirements, the venue is ready to be used by business across the region.
Take advantage of this first-class meeting and workspace
Why would my business need The Chaffron Centre?
The location of your business speaks volumes about your company, which is why the centre offers a great option for workspaces best suited to your specific requirements, say those behind The Chaffron Centre.
Beautifully interior designed, it offers the latest technology, comfortable seating and all the tea and coffee you can drink!
The project was possible thanks to a £3.5m grant from the government, which has allowed Milton Keynes College to open this new 'Business and Skills' Centre.
The centre will be operated in partnership with the college and the South-Central Institute for Technology, who supported by our partners, MK Chamber, the Southeast Midlands Local Enterprise Partnership (SEMLEP) and MK Council, along with the city-wide artificial intelligence group, MKAI.
It is split over two floors which include meeting rooms, VR suites, individual classrooms, catering, refreshment and break out areas.
Some of the most advanced AI technology will be in place and available including, Stratus systems a VR solution for industrial use for the investigation of design flaws, Cobotta programmable. robot with camera vision, complete holographic viewing, and display systems as well as advanced workstations and teaching aids.
All business rooms come equipped with all the essential tools and technology needed, such as whiteboards, AV, stationery, and free Wi-Fi, and are available to all visitors. Our free parking is extensive and has plenty of availability – unique for Milton Keynes.
"The Chaffron Centre gives our regional business community a premier focal point. This newly opened business centre offers a broad range of meeting rooms and workspaces, new advanced technologies and business focussed training and learning." said Dr Julie Mills OBE, CEO and Group Principal of MK College Group
Meeting RoomsThe Chaffron Centre provides quality meeting rooms and workspaces for all needs and requirements. All available to hire – this flexible facility offers spaces for a board range of requirements.
There are 4 rooms to hire plus break out space – each can be hired room by room or floor by floor. There is free Wi-Fi across the entire space, interactive screens in each room, video calling technology, which is easy to share from laptop for presentations, etc.
Individual Training RoomsThere are a number of flexible and high-quality training spaces and classrooms. Each will suit a different event type and there is plenty to choose from.
Our experienced staff are happy to advise how the rooms can be tailored to your needs, including the range of room layouts to choose from.
Catering servicesThe Centre can provide delicious fresh food, made professionally, and delivered on site by our skilled hospitality team, with free tea and Nespresso coffee.
The meeting rooms, workspaces, seminar, conference, and event areas are all for hire individually, floor by floor or as one complete and substantial dedicated space. Therefore, whether you need a quiet place to run job interviews, have a big presentation to a new client and want to impress, or just need to work away from the office, with or without colleagues – The Chaffron Centre is the perfect venue because there's a space for hire that is right for you.
To discover all meeting rooms, technologically advanced facilities, and our on-site catering options, contact our dedicated staff who will be pleased to discuss your requirements.