Over 80% of staff vaccinated at this Milton Keynes carers group
Care staff in Milton Keynes proudly celebrated their 50th staff member getting jabbed.
Friday, 5th March 2021, 9:44 am
Updated
Friday, 5th March 2021, 11:21 am
Over 80% of staff members at Bluebird care have now received a vaccination protecting against the coronavirus.
Bluebird care provides support to the people of Milton Keynes and South Northants. It has hundreds of 'customers' and works closely with the NHS to provide the best care possible.
Stella, who was 50th up to receive a version of the Coronavirus vaccine within the care group, said: "Anything I can do to protect the lovely people I visit must be worthwhile. And hopefully it will help me and the kids get our lives back soon."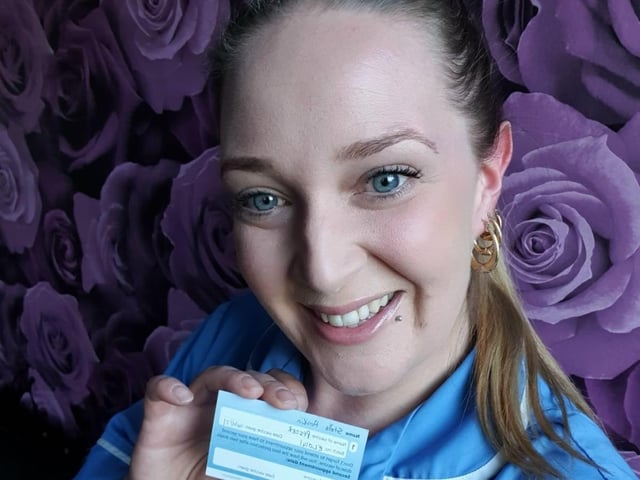 Stella, was the 50th member of the Bluebird care staff to receive a vaccination protecting against Covid
Yesterday's (March 4) update from NHS England revealed the total cumulative number of vaccines administered in Milton Keynes is 73,305.
Catherine Slater, assistant director at Bluebird care added: "We have been really delighted with the response from our carers to have the vaccination as soon as it was available.
"The uptake is significantly better than the average for care homes and home care companies across Milton Keynes, and shows the commitment our carers
have to themselves, their families and the people they support.
"Thanks must also go to Milton Keynes Hospital for the excellent way they have managed the roll out of the vaccination. Booking has been straightforward, and all the staff have commented how smoothly the vaccination process was delivered".
The vaccination process hasn't been as straightforward for all in MK. The Milton Keynes Citizen revealed on Tuesday many in the over 60 age group had been unable to book in the city and offered jabs in Northampton or even London.