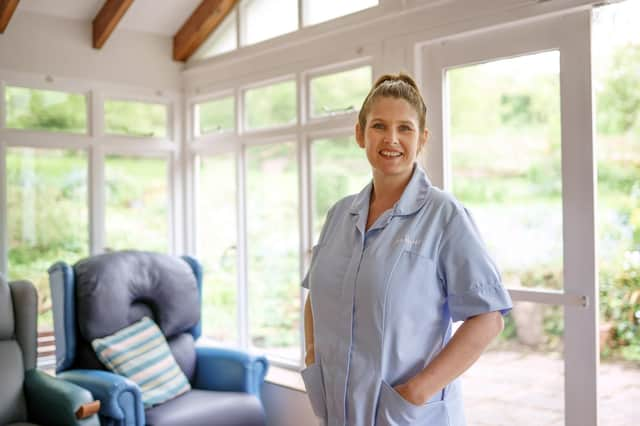 "It is just so special to be with someone at the end of their life with their family and making it as best as it can be." You could join the Sue Ryder team.
Dionne and Donna, both from Bedfordshire, hope by opening the door to give a glimpse of delivering palliative care at home they can encourage more nursing and care assistants into the profession.
Currently, Sue Ryder St John's Hospice has vacancies for Nursing Assistants in its Palliative Care Hub, and the charity is calling for people interested finding out more about what a career with them would involve to get in touch.
"I worked in sexual health and critical care before coming to Sue Ryder and I would have never seen myself doing something like this," shares Donna.
"Working in palliative care is a brilliant career, but it is such an unknown area of care. Death and dying is something not many people talk about or would consider a career in. But once people start asking questions about death and dying they become really interested."
Dionne adds: "Palliative care is really rewarding. I am privileged to go into someone's house and make them comfortable in the last stages of their life. People open up to us about all sorts of things, and we support families just as much as the patient. The best part of my job is meeting people and supporting them."
Dionne has been with Sue Ryder for three years, and Donna for nearly four, and the duo say when they tell people about the job they love, they often get the same reaction.
"When I tell people I work in palliative care most people assume I work in a hospice and I explain to them I work for the Palliative Care Hub giving care to people at home in the community," Dionne shares. "They often tell me they couldn't do what I do and I tell them how much I love it."
Donna says she gets a similar reaction. "People either say 'Oh that must be lovely' or they say 'I can't do that – how do you do it?' I tell them what an absolute privilege it is. It is just so special to be with someone at the end of their life with their family and making it as best as it can be.
"It is such a special moment when people come into this world and I feel it should be the same when we die. We want our patients to be comfortable at home with family sitting beside them with everyone being supported. Knowing you have achieved this when you walk out the door is such a wonderful feeling.
"The people we care for are on an end journey and if they want to talk about it we will talk about it. I tell them I can't make you better, but I can make this journey better for you.
"The problem is people's perception of death comes from what they see on the TV or read in the papers or in books and they think that death is horrible. It is not – death can be really peaceful.
"At the end of someone's life every single little thing can help bring comfort, from massaging their hands to having music that means something to them playing in the background, from sitting and talking to family and reassuring them – it can be beautiful."
The pair share that the job can be emotional, but support from the rest of the team, hospice management and other specialist teams at the hospice is of huge help.
"I had not heard of Sue Ryder before I applied for the job," shares Donna. "But when I joined I had a fantastic welcome. We get a lot of support in our role, from our manager and from the rest of the Palliative Care Hub team or the hospice's Family Support Team. There are lots of different people I can speak to if I need to. If we have any issues there is always support there to be able to deal with it."
Dionne, however, had heard about Sue Ryder before applying for her job. She said: "I wanted to join Sue Ryder because it was Sue Ryder. The charity has such a good reputation and it is well known in the local area for providing excellent care. There is so much support, and we're offered lots of training to do our jobs too, but the best part is that we are all one team and work and communicate as one team."
Together, Donna and Dionne are directly appealing to any care assistants, healthcare assistants, nursing assistants or domiciliary care assistants in Bedfordshire to consider a career in palliative care with Sue Ryder.
"Come and work with us. This is a different kind of care," shares Donna. "We're palliative care professionals and we learn so many new skills in what is such a big field to learn. What we do is so much more than personal care – it's the listening skills, its being able to understand when someone might be in decline, it's about reading people's body language and it's about learning new things to bring our patients comfort, from massaging hands to soaking feet."
"Working in people's homes we get to know and understand lots of different faiths, religions, beliefs and traditions too and the many different ways people want to be cared for at the end of life."
And with research* from Sue Ryder in 2019 finding 73% of people who knew they were able to make a choice about where they died saying they would die at home, Donna and Dionne hope anyone interested in making the switch to palliative care will get in touch.
"Our team is busier as more people want to stay at home for end-of-life care and we want to make that happen for them. To anyone working in care right now that is tempted about making the move into palliative care please come and speak to us to find out more about what Sue Ryder is all about. You can email [email protected] to arrange a chat," Dionne adds.
Alongside the nursing assistant roles in its Palliative Care Hub, Sue Ryder St John's Hospice has a number of exciting and rewarding job vacancies across other services, including its maintenance team, occupational therapy team and registered nursing roles in its inpatient unit. To find out more about the opportunities currently available email [email protected]