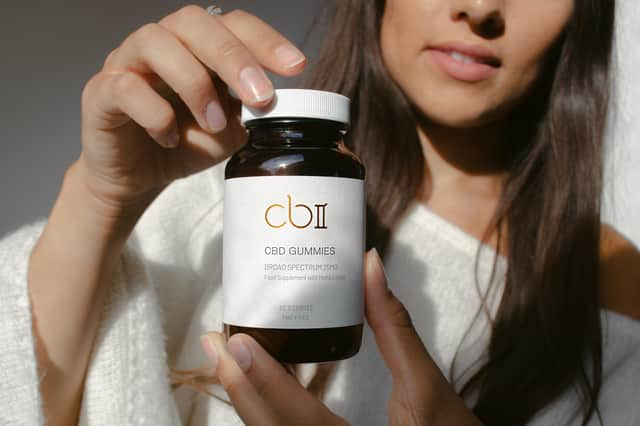 CBD is big news in the wellness world – want to know more?
Since its legalisation by the UK government in 2018, a CBD movement has swept the UK.
In fact, according to the Association for the Cannabinoid Industry, Brits are now spending more on cannabis extracts than on vitamin B and C combined.
And it's not hard to figure out why. With regular users lauding the compound's ability to help with ailments from anxiety and depression to insomnia and acne, the food supplement seems to be bringing welcome relief for many chronic conditions.
If you're a regular shopper for food supplements, it's likely you've noticed the CBD trend emerging
What are the benefits of CBD gummies?
CBD comes in a range of formats from gels, to oils. However, as a food supplement, gummies have a range of benefits that find them favour with many CBD users:
- As with CBD capsules, the dose comes pre-measured
- They're free of the bitter, botanic taste that other hemp products can be known for
- They're good for consuming on-the-go
What is CBD?CBD is a cannabinoid extracted from the leaves, flowers, and stems of the hemp plant. Not to be confused with the cannabinoid THC - the type found in marijuana - it has no intoxicating effects, so it won't get you high.
Rather, it teams up with the body's endocannabinoid system to potentially improve functions like motor control and sleep. While there are trace amounts of THC found in the hemp plant, CBD products have to contain less than 0.2 per cent to be legally sold in the UK.
Broad spectrum CBD vs isolate - what's the difference?
Depending on how the CBD in your gummy has been extracted, there may be other cannabinoids present in your dose, like CBG and CBN. If there are, your CBD will probably be labelled 'broad spectrum' CBD.
These minor cannabinoids boost the effects of CBD to create a more noticeable effect, coined the 'entourage effect'. If you take CBD isolate, that means you're consuming pure, crystallised CBD. While this can be a comfort if you're frequently undergoing drug testing (it means there's absolutely no risk of THC traces in your dose) this means you won't benefit from the entourage effect.
How much CBD should you take?
The FSA recommends taking no more than 70mg of CBD a day - of course, it's best to check with your medical professional before starting out.
Top CBD gummies in the UK in 2022
CBII's sugar-coated sweets each contain an impressive 25mg dose of broad-spectrum CBD. They're fully vegan, and contain no artificial preservatives, yet the taste, texture and potency add up to a high-quality form of CBD.
CBII's CBD is extracted from hemp grown in Oregon - the most strictly regulated market in the US. From there, CBII uses a patented process to extract the CBD. Said to be gentler and cleaner than alternative methods, this process prevents damage to important parts of the plant, resulting in an extract that's as close to nature as possible.
Each jar contains 30 gummies with a selection of four flavours: watermelon, raspberry, tangerine, and lemon. You won't find any artificial colours in the ingredient list either; the sweets' jewel tones come from foods like turmeric and beetroot.
2. SOOL CBD Gummies, £49.99 for 30 gummies, 25mg per gummy
Unlike many CBD products you'll find, SOOL's hemp is sourced in Europe - specifically Spain and Lithuania - instead of the US. The gummies come in tubs of 30, with a mix of green apple and lemon sweets.
The brand prides itself on producing high-quality, trustworthy CBD products. On each bottle, you'll find a traceable code leading you to the third-party testing results for your exact batch.
At 25mg of broad-spectrum CBD per sweet, SOOL's gummies stack up in terms of potency. However, at £49.99 for 30 gummies, SOOL is one of the more expensive offerings on the list.
3. Swiss Peak CBD Gummy Strawberries, 25 gummies, varying prices depending on strength
With options available in three different strengths - 10mg, 25mg, and 50mg - Swiss Peak CBD's sugar-coated, tangy strawberry gummies suit a wide range of CBD users. Juicy and flavour-packed, there's no sacrifice made on taste or texture with this range.
Vegan, free of pesticides, and lab-tested, Swiss Peak's offering is a reliable, high-quality supplement, also available in both cherry flavour and in bear-form.
4. Medterra CBD Gummies Keep Calm, £34.99 for 30 gummies, 25mg per gummy
Medterra's range features a selection of CBD products, including healing creams and oils. And if you're seeking a gummy that's dosed with CBD isolate, these tropical-flavoured cubes could be a good option.
With a soft, chewy consistency and a good balance of sweet, these gummies are as delicious as they are potent, with 25mg of CBD per gummy.
They're also stacked with complementary ingredients turmeric and L-Theanine, known for potentially improving inflammation and mental function respectively.
5. Excite CBD Gummies, £54.95 for 30 gummies, 25mg per gummy
Using hemp sourced from organic farms in Colorado, Excite CBD is a family-run business based out of Glasgow, with a mission to make CBD as accessible to as many people as possible.
As well as their offerings of CBD oil, creams, and vape liquids, they deal in a rainbow of gummy bears, each flavoured to taste like tropical fruits and spiked with 25mg of CBD.
Fully vegan, the gummies use broad spectrum CBD to deliver a strong all-round CBD experience. However, at £54.95 per jar, Excite CBD's offering is one of the more expensive on the list - you'll have to weigh up if it's worth the investment compared to lower-price options.
6. CBDfx Multivitamin for Women/Men, £50 for 60 gummies, 25mg per gummy
CBDfx has stripped back the novelty shapes, sugar coatings, and confectionery-inspired colours to bring simple gummy discs that are stacked with multivitamins.
Available in formulations targeted at both men and women, they come packed with 25mg of broad-spectrum CBD, alongside vitamins A, C, D3, and E, as well as minerals like calcium and zinc. The formulations are purposely composed to support the unique health needs of men's and women's bodies.
Lab results are available on CBDfx's website, so you can be assured that the claims on the label match up to the gummies in your jar.
7. Orange County CBD Gummy Bottles Grab Bag, £10 for 12 gummies, 16.6mg per gummy
Made with broad-spectrum CBD sourced in California, Orange County's resealable bag of gummy bottles is a good option for those who want to slip their stash into a backpack or handbag.
With 16.6mg of CBD per bottle and just 12 bottles per bag, this could also be a good option for experimenters who are hesitant to over-commit to a purchase. In each bag, you'll find gummies in a range of flavours like elderflower, pineapple, blackberry, strawberry, orange, and lemon.