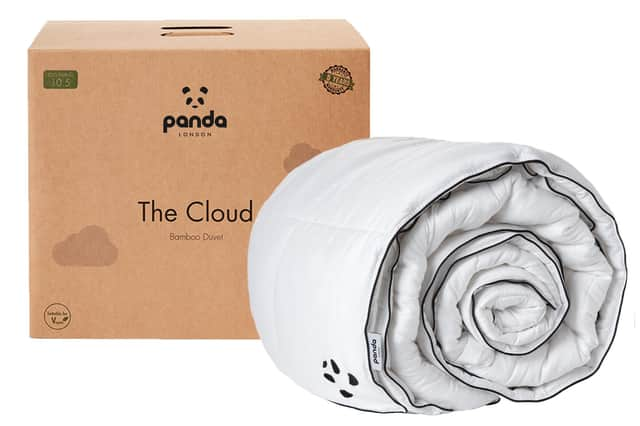 Before you dig out your old summer quilt, wait! There's a new option… Upgrade your summer bedding with the duvet for every season
Summer's here… which means it is time to get your bedroom ready for the warmer weather to help you sleep better at night.
There are a number of ways to prepare your bedroom for summer to ensure a good night's slumber, and they don't have to cost the earth either.
Decluttering your room will help air to circulate and allow those summer breezes to flow. Think about it as a summer clean instead of a spring clean: pack away those thermals and dig out your bikini and flip-flops instead!
If you're redecorating, a light, neutral shade can help tired walls get a fresh and summery new look.
Discover why a bamboo duvet is perfect for summer nights
Now is a great time to find your fan and keep it close by to avoid stuffy nights; if the mercury's rising, it's a good idea to keep blinds or curtains closed in the daytime to stop the room getting too hot.
With its unique temperature-regulating properties, organic bamboo is the perfect choice for your bedding as its fine fibres insulate in the winter, keeping you cosy yet are incredibly breathable and cool in the summer.
If you're looking for the ideal bamboo duvet for every season, Panda London's amazing Cloud duvet is a dream all year round – so no more swapping the heavy winter duvet for the lighter summertime version.
Seriously soft and naturally hypoallergenic, it's ideal for allergy and sensitive skin sufferers... as well as anyone who wants a blissful night's sleep snuggled under the softest, most luxurious quilt. Panda London has replicated the feeling of a down duvet which moulds to your body without a feather in sight – making it a guilt-free option for animal lovers too.
With its strong, silky fibres, bamboo is naturally softer and fluffier than the finest Egyptian cotton. Plus it can be washed at low temperatures and dry rapidly without the need for fabric softeners or ironing, making bamboo bedding a low-energy option too.
Panda London, which offers a range of premium, award-winning bamboo homeware products, is on a mission to be eco-friendly and provide products that meet the highest of standards. Not only is all its bamboo sourced from approved forests, but the company is working as hard as it can to reduce the environmental impact at every stage of its products' lifecycles, from the forest to your front door.
The company has harnessed the power of bamboo to bring the freshest, softest bedding to your bedroom this summer – with The Cloud offering a lightweight covering to keep you cool and help your body breathe. The filling is 50 percent bamboo and 50 percent Nano-Microfibre™ (made from recycled water bottles), meaning it is completely hypoallergenic and antibacterial, helping to repel dust mites and other nasties.
With a 100 percent bamboo cover finished with stylish black piping, The Cloud is easy to machine wash and dries naturally in half the time of regular duvets, bouncing back to its original shape.
See the full range of bamboo bedding products including 100 percent bamboo bedding, towels, multi award-winning mattress toppers, and memory foam pillows at https://mypandalife.com/