Video captures shameless thief using broom to steal milk from pre-school in Milton Keynes
A pre-school that takes children from hard-up families has captured on camera the person that is repeatedly stealing its milk.
Thursday, 29th April 2021, 11:44 am
Updated
Thursday, 29th April 2021, 11:46 am
The crafty crook has spotted the CCTV camera outside Barleyhurst Park and Melrose Pre-School, so he or she brings along a long-handled BROOM to manoeuvre the bottles towards him without his face being captured.
Now, after weeks of losing the milk meant for thirsty children, the pre-school staff have begged the thief to stop - and have even offered to help them access the food bank if they are that desperate.
Ironically a MK Food Bank distribution point is NEXT DOOR to the nursery's premises, which are part of the Frank Moran Centre in Bletchley's Melrose Avenue.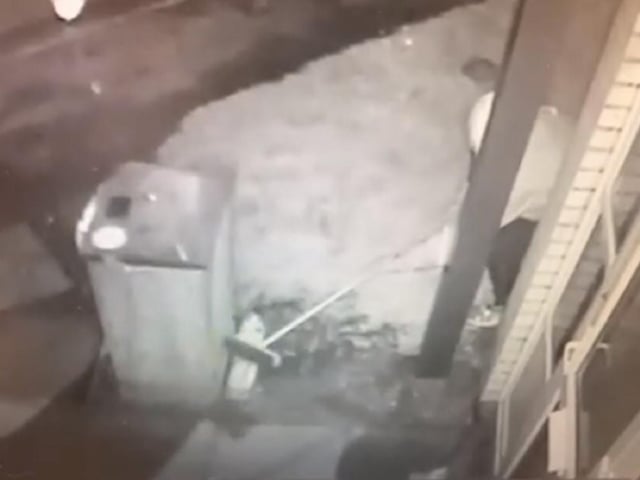 The thief using a broom to steal milk is caught on CCTV
"It's obvious we're a pre-school as there's signs on the door. The thief must know he or she is taking food from the mouths of babies," said a spokesman for the pre-school.
A registered charity, the pre-school charges just £8 for a half day sessions of £19 for all day. It takes children between the ages of two and five.
"Our charges are low because we're here to help families who are struggling, or who are in areas of deprivation," said the spokesman.
"We order plenty of milk every day so the children can drink as much of it as they like at snack time. Some of them don't have milk at home, so it's very important. For someone to steal is is just horrible - it's the lowest of the low.
The crafty crook has spotted the CCTV camera outside Barleyhurst Park and Melrose Pre-School
"If they are that desperate, we will gladly help them - providing they stop stealing our children's milk. We help some of our families get access to the food bank, so we know what to do."
The caring pre-school is hoping publishing the video in the Citizen will shame the thief into stopping, and also raise public awareness.
"Someone walking along our road at 4.50am carrying a broom is quite distinctive. I think they might be noticed," said the spokesman.
The pre-school currently has vacancies for more children. Message or call 07973 229012 or 01908 642728 for details.
Meanwhile, the Food Bank Xtra in Melrose Avenue is designed specifically for people who receive benefits, free school meals for their children, who are in severe debt or crisis, are unemployed, homeless, or at risk of homelessness and other similar vulnerable situations.
If you need help, call the Food Bank Helpline on 0300 303 4933 or text HELP 07874 964505 to discuss your circumstances.