Appeal to buy wheelchair for 'inspirational' five-year-old girl touches the hearts of community in Milton Keynes
A little girl who had defied all medical odds to start school is looking forward to whizzing about the playground in her new electric wheelchair.
Tuesday, 2nd March 2021, 12:05 pm
Updated
Tuesday, 2nd March 2021, 12:06 pm
Bea Pykett was born with Neo-natal Marfan Syndrome, a rare connective tissue disorder that causes heart defects, spinal problems and disproportionately long limbs.
Most people with the condition will have a life expectancy of 70 plus, but Bea's case is one of the most severe doctors have seen and unfortunately the outlook is not so positive for her.
But the determined Olney youngster has spent all her life so far years fighting and defying the odds.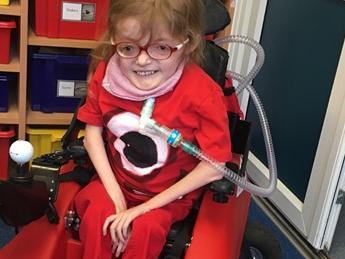 Bea is loved by all at her school
"Despite being told she wouldn't have a quality of life when she was born, Bea is a very bright and happy child who loves attending a mainstream school and spending time with her friends," said a spokesman for the family.
In September 2019 Bea started at Sherington CE First School, even though her parents Jenny and Alex had been warned it was very unlikely this would ever happen. In fact the smiling youngster is thriving and loved by everyone there.
Bea speeds around the school and playground in a Wizzybug power wheelchair, known affectionately as Wizzy, and designed specifically for children under five. It enables her to be as independent as possible in her day to life.
With Wizzy due to be sent back for another child to use after Bea's fifth birthday, family and friends organised a fundraising page to raise cash towards Wizzy's big brother', a larger chair called Koala. But sadly this chair is not available on loan or through the NHS and it costs £11,000.
"Wheelchair services are donating £3000 and we are trying to raise the rest," said the family spokesman.
A fundraising page has so far raised more than £4.500 towards the chair and also a new specialist car seat for Bea. You can view the page here .
This week the fund was given a huge boost by local developer David Wilson Homes after Bea's story captured the hearts of staff there.
John Dillon, Managing Director at David Wilson Homes South Midlands, said: "Whilst the NHS will support families to purchase the equipment they need, it's a never ending cost for the Pyketts to ensure Bea has everything she needs. The family aim to make Bea's life as easy as possible for her and to allow her to be a little girl and enjoy the little things in life."
He added: "When we heard about Bea's fundraising journey it touched the hearts of many of our staff members and we knew we wanted to support her and use our Community Fund scheme to award her £1,000.
"Bea is an inspirational young girl and it's been fantastic to hear how this donation will make a difference, not only in allowing her to be independent but to improve her quality of life."
Bea's mum Jenny said: "When you're a parent you just want to give your child the best you can and that's exactly why we've been fundraising for this specialist equipment.
"This donation, and all the donations we've received from our fantastic community, really help to make a massive difference to Bea and to our whole family. Saying thank you to people who support us never quite feels like enough...Words just can't express how grateful we are."
Jenny, who has a younger son called James, describer Bea as "a beautiful, happy and intelligent little girl who loves singing, dancing and playing with her friends."
She said it was "fantastic" to see her get herself around in her Wizzy. "The independence she's been given is just incredible. She's such a bright and amazing girl and it's so important for her to feel that she can do things for herself."
Jenny has also thanked Olney and Newport Pagnell Lions Club for their generous donation and support.
"We're amazed and humbled by everyone's generosity. It really does make us proud of our wonderful community," she said.