Cheeky breakfast cereal makers say Milton Keynes should be in 'Weetabixshire'
The county should be re-named, they insist
Watch more of our videos on Shots! 
and live on Freeview channel 276
Visit Shots! now
Makers of the nation's favourite breakfast cereal are petitioning to create a brand new UK county encompassing Milton Keynes – and they want to call it Weetabixshire.
The manufacturers want Weetabixshire to encircle a 50 mile radius from their factory in Northamptonshire's Burton Latimer, which is less than 30 miles away from MK.
And although it may go against the grain, they believe it's a fitting tribute to their 1,100-strong workforce, who use wheat from Weetabixshire to make 11 million Weetabix biscuits every day, equating to almost 8,000 every minute.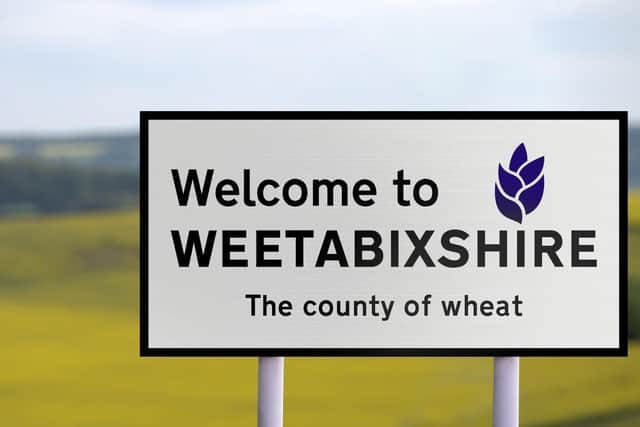 You can view the Weetabix petition here.
Three 7ft tall 'Welcome to Weetabixshire' signs have already been erected in Burton Latimer,to mark the centre of Weetabixshire, as well as on the edges of St Neots and Rutland to pointedly mark the new proposed county lines.
Not everyone is convinced though. One passer-by branded the campaign "wrong", exclaiming that "you wouldn't rebrand Milton Keynes, would you?"
Burton Latimer resident, Steve Battison, also rejected the notion, and said: "it's a cereal box, not a county!"
But that's not stopping Weetabix, who are campaigning to keep the county and hope to gather more signatures in the coming days to support making Weetabixshire a reality.
Weetabix farmer, Jim Beaty, said: "My farm is less than a mile from the Weetabix mills and I can smell the Bix being made every morning, so seeing all these people come down to the local area in support of Weetabixshire, fills me with such pride... I can't express my gratitude enough towards them."
Lorraine Rothwell, Head of Brand at Weetabix, said: "We're proud to say our sourcing is local and facilitated by our network of incredible farmers, who are the backbone of Weetabix, so we wanted to show it off!"
"Keeping our sourcing local means we can support the farming community right here in Northamptonshire,working directly with growers who share our passion for delivering the very best wheat in the most sustainable way. Not to mention, sourcing our hero ingredient so close to home cuts down on our own food miles."