Company behind Milton Keynes robots say deliveries have quadrupled over past year of lockdowns
Demand for robot delivery has soared globally
Thursday, 13th May 2021, 2:40 pm
Three years after launching Britain's first autonomous delivery service here in Milton Keynes, Starship Technologies has reported that business is booming.
From the start of the pilot scheme in April 2018, the service is now available on a daily basis to one million people globally.
But Milton Keynes is still at the forefront as having the world's largest autonomous fleet, consisting of more than 200 much-loved little robots.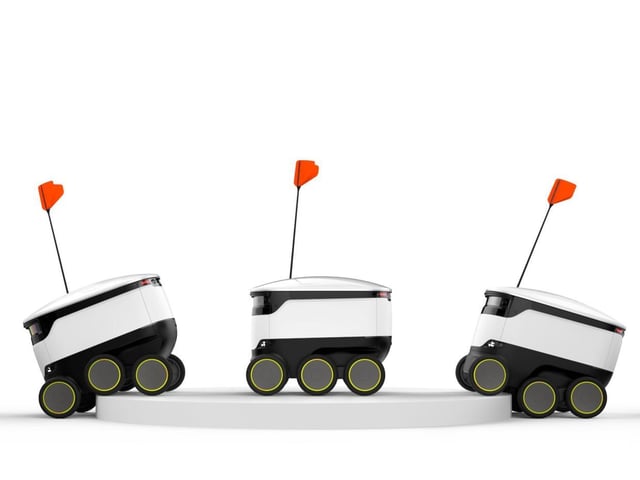 Starship robot deliveries have quadrupled over the past year
Today Starship co-founder and CEO Ahti Heinla described how the past Covid-dominated year has been a "game changer" for he robots and has moved the adoption of autonomous delivery ahead by years.
"When we launched commercial delivery three years ago, we didn't expect to be at the point we are today," he said.
" We marked the significant milestone of one million deliveries in January 2021 and we've since surpassed 1.5 million deliveries. These rapid developments have also helped us scale the business, so we can provide a lower cost of delivery than any other option available."
As well as offering a reliable way to protect vulnerable populations and stick to social distancing during the pandemic, contactless delivery offerings such as Starship's service have also proved to be a vital revenue stream for local businesses.
In the last 12 months, Starship has partnered with 40 independent merchants in Milton Keynes and Northampton, enabling these companies to offer a delivery service to local residents that they didn't previously provide in order to continue operations.
One of these businesses that has thrived in the last year is St Mary's Chippy, a Bletchley fish and chip takeaway that offers contactless delivery using Starship robots.
The shop Tony Paolucci said: "Over the last 12 months during the pandemic we've faced a very difficult time as have many local businesses with the lockdowns and guidelines around when and how we've been able to stay open.
"However, partnering with Starship has provided a lifeline as it has enabled us to offer delivery services to customers that we didn't provide previously as a walk in takeaway. In the last year we've seen our order numbers grow by 15% through using the robots. It's a fantastic service!"
Starship Technologies operates commercially on a daily basis around the world. Its zero-emission robots have made more autonomous deliveries than any other autonomous delivery company in the world, trundled millions of miles and made more than 80,000 road crossings every day.
The company has raised an impressive $102m in funding to date.
The Starship Food Delivery app is available for download on iOS and Android. To get started, users choose from a range of their favourite food or drink items, then drop a pin where they want their delivery to be sent.
They can then watch as the robot makes its journey to them, via an interactive map. Once the robot arrives, they receive an alert, and can then meet and unlock it through the app.