Critically-ill Covid patient who got married in hospital finally returns home to wedded bliss in Milton Keynes
A man who got married on a hospital Covid ward has been discharged after his six week stay.
Tuesday, 2nd March 2021, 7:44 pm
Doctors and nurses lined the corridors and clapped as 36-year-old Simon O'Brien said an emotional goodbye to the place that had saved his life.
He and his partner Elizabeth Kerr were admitted in the same ambulance on January 9. Both had Covid and both were suffering from breathing difficulties and dangerously low oxygen levels.
The pair had planned to marry in June but, as Simon's condition worsened, caring hospital staff rallied round to bring their ceremony forward just in case the worst happened.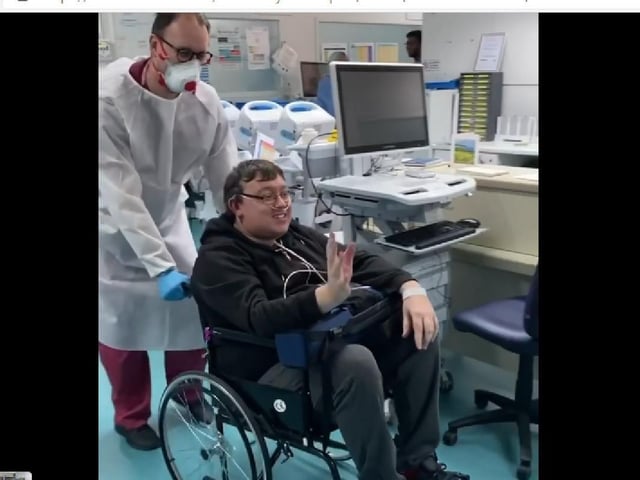 Simon says an emotional farewell to Ward 15
They arranged for it to take place on the ward, shortly before Simon had to be sedated and placed on a life-saving ventilator.
Elizabeth, 31, who is a staff nurse herself, was well enough to be discharged two weeks later. But Simon, who works for private ambulance company OBS Medics, was still seriously ill.
Now, after more than six weeks in intensive care and Ward 15, he is finally well enough to go home and join his new wife. He was wheeled out of the ward amid clapping and cheering from all those who had looked after him.
A hospital spokesman said Simon was one of their longest stay Covid patients
Elizabeth, the new Mrs O'Brien
He added: "Last month, Simon was able to marry his wife, Elizabeth, at MKUH moments before he was sedated and put on a ventilator. He and his wife are now recovering at home."
Simon said he is feeling "a lot better" but still needs oxygen to breathe. He is walking a little further each day,
"Still on home oxygen but hoping that when my lungs will get stronger I can come off the oxygen soon." he said
"I've still got a long road ahead but I'm getting there thank goodness."
He added: "Been a bit of an celebrity on ITV news, radio and the papers, BBC and radio stations still wanting interview us. Never been this popular before!"