Grateful Milton Keynes couple name their dog after dating app that brought them together
An engaged couple who met through the online dating app Bumble had no hesitation when it came to choosing a name for the puppy they brought together.
Tuesday, 27th April 2021, 12:05 pm
Updated
Tuesday, 27th April 2021, 12:06 pm
Charlotte Barnard and Rob Tidy have christened the cute dachshund Bumble - and are already debating whether or not he will be coming to their wedding.
"It seemed the perfect name," said 28-year-old Charlotte, who had experienced a series of "dating disasters" before she tried the Bumble app.
"I'd had some really bad dates. I'd get my hopes up and have high expectations, only to be bitterly disappointed.The worst one was with a man who turned out to be obsessed with Tintin. Literally, that was all he talked about.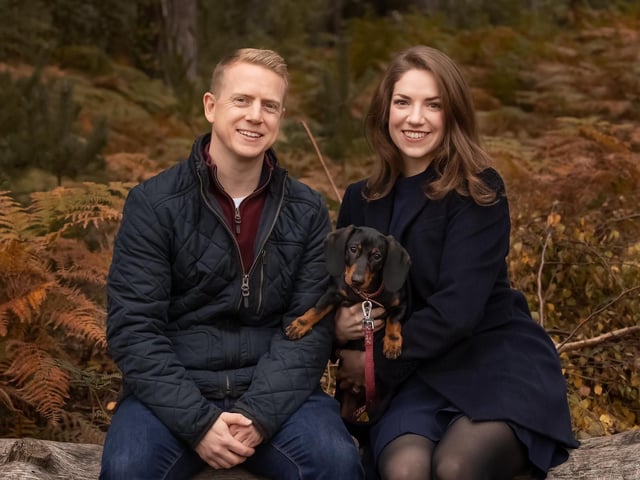 Rob, Charlotte and Bumble. Photo: Sian Tyrell, Sian T Photography
"Needless to say, there was no second date!"
The events marketing manager was swiping through Bumble when she spotted the profile of Rob, a 33-year-old financial advisor. They had a banterous first conversation and spoke for a day or two before exchanging numbers.
Their first date was at The Porthouse in the Strand and Charlotte actually went to the wrong place first. She thought she'd been catfished until the confusion was cleared up.
The attraction was instant and afterwards Charlotte told her best friend Rob was "the best person ever".
Eight months later the couple were head over heels in love and moving in together in Milton Keynes. Rob popped the question shortly after the start of the first lockdown last March.
"We'd booked a holiday in Scotland and I'd planned to do it then but of course it had to be cancelled due to lockdown. So I waited until we had a date night at home and surprised Charlotte."
Charlotte said: "Rob said he had something special for dessert and he left the room to get it. He told me to close my eyes and when I opened them again he was down on one knee....It was lovely."
The happy couple plan to get married in December, but meanwhile they have cemented their relationship by buying a puppy together. This week all three of them are moving to Bletchley, into their first 'proper' house with a garden for Bumble.
Bumble bosses were delighted to hear their success story - and thrilled at their choice of name for the dog, who even has his own Instagram account called @bumblethedachshund.
Meanwhile the couple have not decided whether or not Bumble will be the star attraction at their wedding, which is to be held at a venue in Essex.
"We've taken him to puppy classes and he's quite well-trained for 90 per cent of the time," said Rob. "But he's a typical dachshund and quite strong-minded - so it's the other 10 per cent we're worried about!"