Incredible dog saves owner's life after she stopped breathing during seizure at home in Milton Keynes
Moose the Labrador licked her nose and mouth until she started breathing
Watch more of our videos on Shots! 
and live on Freeview channel 276
Visit Shots! now
A Labrador dog who is still in training has brought his owner back from the brink of death.
Moose, who is just nine months old, was bought by 22-year-old Leeanne Reed as a puppy to help her with her disabilities.
She trained him herself, using swabs of her saliva, to detect when she was about to have a major seizure and spring into action to save her.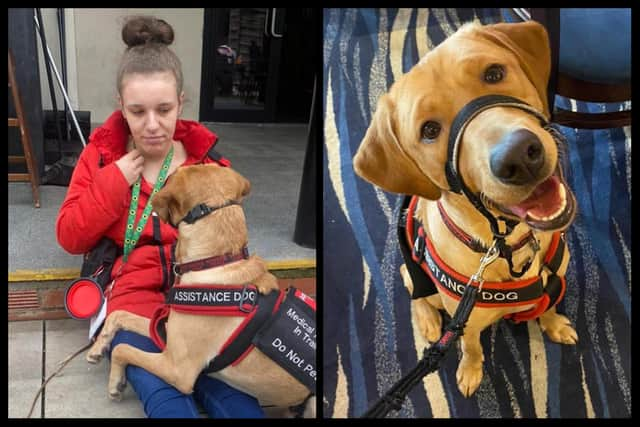 Leeanne, who has a complex neurological disorder, suffers dozens of mini seizures each day but most only last a few seconds.
"This time it was a big one. It lasted about two or three minutes and I wasn't breathing for all that time," she said.
"When I came round I was blue through lack of oxygen. And all I could see was Moose's big doofy face on top of mine. He was licking my nose, my mouth and even the inside of my mouth – which is exactly what he's trained to do to get me breathing.
"He saved my life – there is no doubt."
Fox red Moose and Leeanne have an incredible bond and he provides invaluable help for her around her Glebe Farm home.
"He can bring me my medication, my phone or a bottle of water. He can close doors and even turn lights off – he's just like a human helper," she said.
Moose can detect when his owner's heartbeat is too high and he can even tell when she is about to have a panic attack and needs calming down.
Sadly the loveable Lab nervous when outside the home.
"I can't use him when we're out because he's too reactive. He's never aggressive but he barks at other dogs, which is something assistance dogs shouldn't do," said Leeanne.
This week she is awaiting the arrival of a second dog, a poodle cross called Mabel, to use in outside situations and she plans to train her up in the same way as Moose.
"I will still keep Moose, of course. I would never part with him," she said.
I'm hoping him and Mabel will be the best of friends and both of them will look after me."