Milton Keynes man born with birthmark covering most of his face speaks out about 'hate crimes' he's suffered
A man born with a birthmark that covers three quarters of his face has spoken out about the years of bullying and abuse he has suffered due to how he looks.
Thursday, 23rd January 2020, 12:09 pm
Updated
Thursday, 23rd January 2020, 12:20 pm
Phil Gorf, 52, is telling his story to help Changing Faces, the charity for anyone who has a mark, scar or skin condition
Today, as part of its new #VisibleHate campaign, the charity has released research showing the high incidence of "hate crime" amongst people with a visible difference.
Phil, who lives in Newport Pagnell, said the bullying started when he was about eight years old.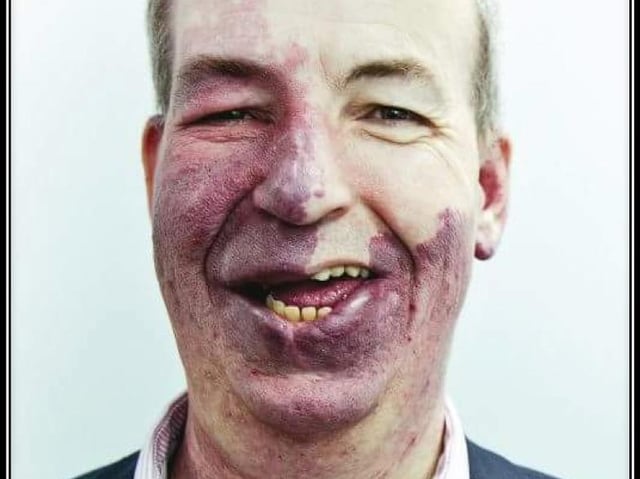 Phil Gorf
"It was horrific. Relentless. I would have people throw things at me, call me names, and draw my picture on blackboards. A teacher once tried to step in but they got
berated by the other students. That was the only time I ever remember a teacher trying to protect me," he said.
"If I walked down the street, people would do a double-take. Children would ask questions about what was wrong with my face. I'd avoid being seen, and walk with
my head turned away or I'd take a different route that wasn't so busy. It made me very introverted and shy."
The Changing Faces research proves that experiencing hostility and abuse can have a long-lasting impact. Almost half of victims surveyed said they have lost confidence, while over a third said they now feel anxious when they go out. A quarter said it has had a negative impact on their mental health.
Phil agrees. ""If I'm on my own and I get called names and experience abuse I just bury it but after 45 years of doing that, I just fell apart. There is an old saying 'sticks and stones may
break your bones but names will never hurt you' but names can really harm your mental health.
"I've never reported the abuse as I didn't know it was a crime, I didn't know it was something the police would take it seriously. People need to be aware of what they
can or can't do and we need to put a stop to the abuse."
He remembers when, as a very small child, his family took him to a camouflage make-up artist and bought him some cream that matched his skin tone to cover the birthmark, which also spreads to parts of his body.
"At first I was quite excited but I got bored while it was being applied. I found it too much hassle and so never really wore it. It was at about that time that the bullying started, and got progressively worse,especially when he moved up to senior school."
Phil never talked to anyone about what had happened, and for many years, didn't realise how much the birthmark and people's reactions to it had affected him. Then
when he was in his 40s, he realised something was wrong after he and his wife experienced relationship difficulties.
"We ended up going to counselling together and it all came out. That's when I first contacted Changing Faces; they were a big help. It's taken seven or eight years for
me to deal with that stuff so that it doesn't affect me as much. I have coping strategies now."
Since leaving school, Phil has enjoyed a successful career, including spending 20 years working in logistics at DHL.
However, before DHL he experienced a lot of discrimination and abuse.
"I once had an interview with a water company and the man interviewing me said 'I've noticed your face, is that anything that can get in the water?'. I explained that it
was just a birthmark. Unsurprisingly I didn't get the job. At the time, I was trying to get a job so I stayed professional and polite, but it wasn't until afterwards that I realised I
was being discriminated against.
"Then I had an interview at a company that fitted satellite dishes and TV aerials, were the man said 'I can't employ you. I couldn't send you out to a customer with a
face like that'. I found that really upsetting."
Phil said he has never reported the abuse as he didn't realise it was a hate crime.
"I didn't know it was something the police would take it seriously. People need to be aware of what they
can or can't do and we need to put a stop to the abuse."
Changing Faces say that while most abuse happens in public, more than 40 per cent of people with a visible difference have had negative experiences online, with one in ten saying they are repeatedly harassed on social media.
The charity has today released a hard-hitting film as part of its campaign, which is supported by the Home Office and social media companies such as Twitter, Instagram and Facebook.
Actor and presenter Adam Pearson is one of six people with visible differences starring in the hate crime film and he says the levels of abuse he receives is tough to deal with at times.
He said; "I've been abused in the street but I also get a lot of hate online. Some people say to me 'well just quit social media' but that's not a solution. Why should victims of abuse be removed from social media platforms – it only further ostracises them.
"We need to highlight the impact of hate crime and cultivate an online landscape where people like me can exist and engage without being attacked simply for how we look. This is all about empathy, equality and education."
Changing Faces CEO Becky Hewitt says: "It is not good enough that in 2020 people are still experiencing abuse and harassment because of how they look. For the first time this research shows us how many people are affected by appearance related hate crime and the impact it can have on their lives.
"We hope our campaign will help to stop the hate by giving people the confidence and the methods to report abuse. And we would urge the general public to support us so that these hate crimes are recognised and reported."