Parks Trust bosses explain why they've given marching orders to pizza van judged as number one place to eat in Milton Keynes
Owners of a highly popular pizza van have been told they can no longer get a slice of the action at Willen Lake.
Monday, 29th March 2021, 5:59 pm
From May 31 The Parks Trust is not reviewing the contract for the family-run A Pizza This van, which has served local people for the past four years.
During that time it has won the TripAdvisor Certificate of Excellence Awards and also been judged as the best place in MK to eat on TripAdvisor.
Trust bosses say the converted camper van will no longer be needed because they are building a new watersports complex, complete with its own restaurant and cafe. It is understood the restaurant will be serving pizza from a wood-fired oven.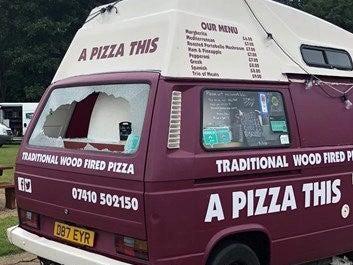 The Pizza This van is very popular with hungry visitors to Willen Lake
Upset A Pizza This customers say there is room for both eateries and petition has now been launched to save the van's pitch. Already more than 1,500 people have signed.
The petition, organised by a friend of the van's owners, states: "My friends have a family run business serving freshly cooked, wood fired pizza from their converted VW van. The business has proved very popular. However, after four years of successful trading The Parks Trust have informed them that they will not be renewing their contract - this is related to the new cafe/restaurant that is currently being built.
"My friends were led to believe that they were part of the future plans of Willen Lake and this has come as a complete shock to them."
The petition can be viewed here.
The van will lose its idyllic pitch on May 31
Today a spokesman for the Parks Trust said: "We have been pleased to work with A Pizza This during the last four years - they have provided a great takeaway food service and the team at Willen Lake have been happy to support them.
"Willen Lake has become an increasingly busy and popular destination and we have been investing heavily in new facilities, including a watersports building with restaurant and café and this does mean we are unable to renew the annual licence that A Pizza This had previously.
"We had informed them that we would provide an extension until the end of May whilst they look at other options. We have also been looking at any other potential sites we might have that would be suitable. The Parks Trust is an independent local charity – we do run some commercial ventures in order to pay for the maintenance and investments in the parks in Milton Keynes. Every penny we make at Willen Lake is reinvested in the facilities. We hope that A Pizza This will find a new home in Milton Keynes and wish them every success as they continue their venture."
Meanwhile the owners of the van have put out a statement on social media saying they've been told the new restaurant will have a focus on woodfired pizza and has been "given exclusivity" for hot food at Willen Lake.
They said: "We have always strived to create a great relationship with the local community. We love that our rent to The Parks Trust goes back into the upkeep of green spaces around Milton Keynes. We were the first business at Willen Lake to use biodegradable and recycled packaging, which we have done since our opening. We love supporting local charities.
"This is our whole world and is our main income source. We left our jobs to pursue this dream and we cannot let these last 4 years go to waste. We have put everything into our independent business and have made some great friendships with customers along the way. We have always had incredible support from our customers and now we need your support more than ever. We're not ready to give up yet."
The owners added: "We hope to continue working with The Parks Trust to figure out an alternative location, however there is no guarantee that they will find us anywhere, so we are currently assessing our options as time is quickly running out."
In 2018 the pizza van was trashed by vandals and a crowdfunding campaign was launched, with dozens of customers donating, to repair the damage and replace the broken equipment.
Vandals had trashed the van's inside, smashed the windows and ripped off the newly-fitted skylight and CCTV cameras before throwing them in the lake.