People all over Milton Keynes urged to use buses to save 7 once-popular routes from being scrapped
It's a 'use it or lose it' scenario
Watch more of our videos on Shots! 
and live on Freeview channel 276
Visit Shots! now
MK City Council is campaigning to save seven bus routes by urging more people to go back on board buses.
The operators of the routes have said they will stop running them if passenger numbers do not increase.
All seven were once extremely popular but the usage dropped significantly during the Covid pandemic and has never fully recovered, they say.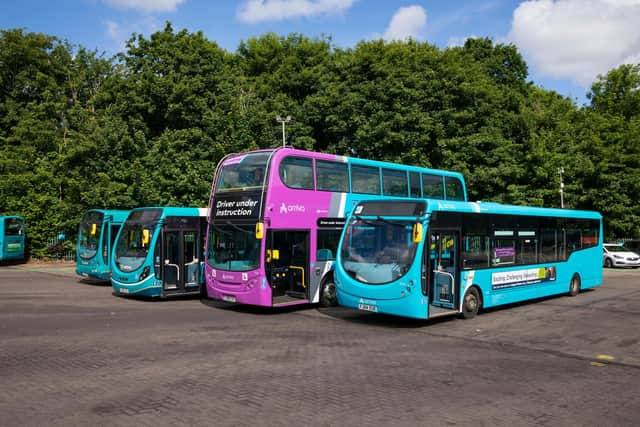 The city council has committed to funding the routes until the end of the year but is requesting residents and businesses to help if they want them to remain in service after that.
This week they have issued a 'use it or lose it' ultimatum.
The bus routes under threat are:
Route 21: Linking Olney, Emberton, and other northern parts of Milton Keynes.
Route 41: Connecting Milton Keynes with neighbouring authorities via Olney.
Route 1: Serving Newport Pagnell, Green Park, and Downs Barn.
Route 2: Connecting Newport Pagnell, Poets' Estate, and Downs Barn.
Route 3: Covering Lovat Fields Village.
Route 4: Serving Greenleys, Great Holm, and Shenley Church End.
Route 7: Linking Oakridge Park and Great Linford
Over the winter, messages about the potential loss of service, a reminder of the routes, and the benefits of using buses, including the environmental advantages for everyone, will be shared with residents living close to the routes, say council officials.
Cabinet member for Climate Action and Sustainability, Cllr Jennifer Wilson-Marklew, said: ""We're at real risk of losing routes if people don't use them. We're doing what we can to keep the routes going and have committed additional funding to keep these buses running until the end of the year. But we won't be able to keep spending public money on routes that very few people want and what the bus companies decide is out of our control."
She added: "As someone who uses the bus in Milton Keynes, I can't emphasise how important it is that we all make an effort to use public transport when we can.
"The message is clear – use it or lose it."
In 2021, a string of local bus routes were scrapped because the city council stopped subsidising them. Instead they introduced MK Connect, the biggest demand responsive transport of its kind
The fleet of seven-seater electric vans replaced around 15% of the city's total bus services and offered a more efficient, cleaner and greener way to get around the city, said ruling councillors.
Since taking to the road, MK Connect has completed almost a million journeys. But some people have criticised the service as unreliable and difficult for some people, particularly older residents without access to smart phones, to use.
Others complain the service is too expensive, with charges set at £3.85 during peak hours (6am to 9am and 2pm to 5pm) and £2.75 at all other times.
Some users, however, have hailed the new scheme a success and big improvement on the old traditional buses.