Poignant appeal launched to make dreams come true for young Milton Keynes boy diagnosed with highly aggressive cancer
Kai, 10, has been given a 50-50 chance of survival by doctors
Wednesday, 19th May 2021, 11:55 am
Updated
Wednesday, 19th May 2021, 11:58 am
A devastated family has launched a fundraising appeal so they can help their seriously ill son achieve his dreams.
Kai Robinson was diagnosed just two weeks ago with two brain tumours caused by a highly aggressive germ cell cancer.
The type of cancer is so rare that Kai is literally one in a million. But sadly it is also difficult to treat and more likely to return after treatment, said his mum Kerry, who lives in Broughton with her husband and two young children.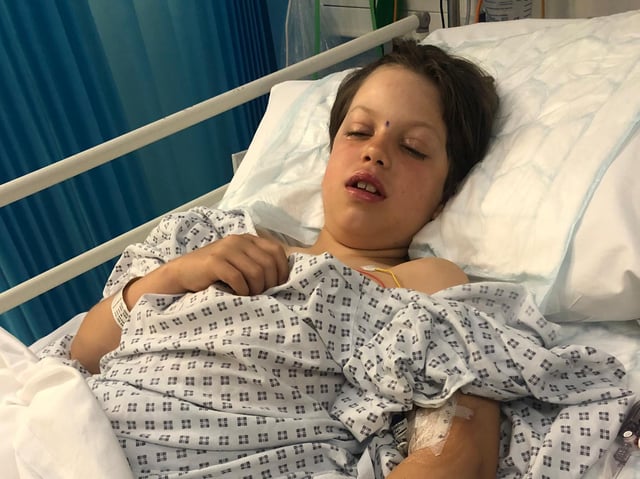 Kai after his surgery
"The doctors have given Kai a 50/50 chance of survival and have told us that the treatment will have serious side effects including the growth of his spine permanently stopping, learning difficulties, hearing and sight damage/loss and not being able to have children of his own," she said.
Kai, who Kerry describes as a kind and caring "model son", had always been a normal healthy schoolboy who cares passionately about the environment. His ambition is to plant trees in the Amazon rainforest.
But one Saturday at the beginning of the month the Broughton Fields primary school pupil suddenly complained of headaches and dizziness.
"Initially we thought he had an ear infection and took him to the walk-in centre," said his mum. "However his symptoms continued and he started to vomit on the Thursday, becoming very sleepy. We took him back to the GP on the Friday who couldn't find anything wrong with him.
Kai loves nature and helping the environment
"By the next morning he was so drowsy he could hardly form a sentence. Becoming increasingly concerned, we took him to A&E where the doctor shared our concerns and admitted him for further investigations."
An urgent CT scan was performed which devastatingly found a sizeable mass on Kai's lower right brain region.
"At first we clung onto the hope that this could be a cyst caused by infection but this was soon ruled out after blood tests found no raised infection markers," said Kerry.
" He was quickly transferred to John Radcliffe hospital where they performed an urgent MRI. At 2.30 am we got the shocking news that Kai had not one but two brain tumours. A smaller mass was picked up in the pineal gland.
"Things all happened very quickly after this and the next morning Kai was taken down for brain surgery to attempt to remove the larger tumour.
"After nine long agonising hours we finally got the call that Kai was in recovery and the surgery had gone well. Kai amazed us with how well he coped with his operation and within days he was up and walking around with a smile on his face."
But there was more devastating news to come after doctors performed a biopsy on the mass they had removed.
"They found that Kai has a very rare germ cell tumour (one in a million) which has already spread from the pineal gland to the cerebellum," said Kerry.
"This and the massively raised AFP marker suggest that that we are dealing with a more aggressive cancer which is more difficult to treat and more likely to return after treatment. Because of this the treatment will need to be aggressive (four months of three different chemotherapy drugs followed by two months of radiotherapy to the whole brain and spine."
Kerry and her husband are both self employed. She was due to start working as a childminder this month, but all plans have now been put on hold as the battle to save Kai begins.
"I've decided to try to stay positive for him and channel my energy into making happy memories with him for as long as we have together... There's so many things Kai hasn't had a chance to do yet, like going to Disneyland, and he's such a lovely, sweet boy he doesn't deserve to be going through this."
"Kerry said Kai is a thoughtful and kind hearted boy who has always been a model son and is idolised by hi five-year-old brother Mason and little sister Sienna, who is two.
"He helps me around the house. He plays really nicely with his younger brother and sister and comes up with detailed imaginary games for them," she said.
"He's a gentle soul who wouldn't hurt a fly. He hasn't reached that moody, teenage stage yet where they just want to play computer games and is still happy making structures with his magnet tiles - his teachers all say he will be an engineer like he his dad.
"He is fascinated by nature and loves to grow seeds and plants and nurture them. He will take a seed from a pepper we've eaten and grow a whole new pepper plant from it, he treats his seedlings like pets and takes them everywhere with him.
"He dreams of being able to plant more trees around the world and his ultimate dream would be to plant trees in the Amazon rainforest and design buildings that are at one with nature."
Though the future looks bleak, the family has vowed to make as many happy memories for Kai as they can over the coming months.
But money will be tight, said Kerry.
"I just want to make him happy and us being worried about how we're going to make the mortgage payments over the six months that he's having his treatment and we're unable to work isn't going to help him focus on beating this. "
The family launched a £10,000 fundraising appeal earlier this week and already well-wishers have donated more than £3,000.
"We hope to raise enough funds to allow Kai to have some amazing experiences and squeeze in as much joy as we can into his life and make as many happy memories with him as we can," said Kerry.
"We don't want a lack of funds to prevent Kai from doing everything on his bucket list. We know that times are difficult for everyone at the moment, so please if you are not in a position to be able to donate help us by sharing to raise awareness for Kai's cause."