Police reveal hope that Leah Croucher might still be alive on the second anniversary of her disappearance from Milton Keynes
The man in charge of the Leah Croucher investigation has spoken for the first time about his personal theory on what has happened to her.
Monday, 15th February 2021, 12:01 am
Updated
Monday, 15th February 2021, 1:53 pm
DCI Andy Howard has lived and breathed the Leah case ever since the 19-year-old seemingly vanished off the face of the earth while walking to work two years ago today (February 15th 2019).
He admits there is scarcely a day goes by when he doesn't think about Leah and sometimes the sheer frustration of the baffling lack of clues keeps him awake at night.
Officially, he says: "After all of this time with no contact, no positive sightings, no financial transactions, no social media and no phone activity, the potential that Leah is no longer alive has to increase."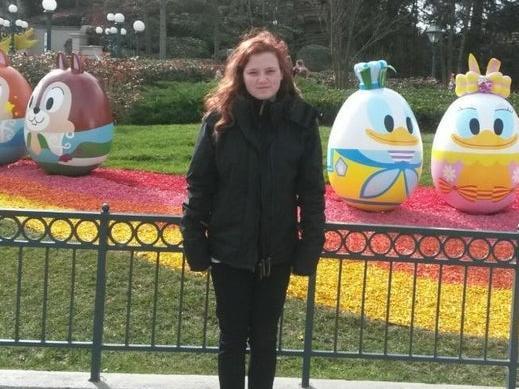 The clothes in this photo are similar to what it is believed Leah was wearing on the day she disappeared.
But when pressed for his personal view, the formal police mask slips slightly.
"My own theory? I think the most likely theory is that Leah has gone of her own accord on her own... I believe it is because of a decision she made herself."
So does this mean he thinks Leah is still alive?
"It could do," he says quietly.
"As long as there is hope that Leah is still alive we will be positive and hope."
Then he adds: "But I will keep an open mind and rule nothing out."
Certainly police are adamant there is nothing to suggest a third party was involved in Leah's disappearance, despite the view of her parents and those who knew her best that the teenager would never choose to up and leave of her own accord.
The family firmly believe someone forced Leah to vanish and may even still be keeping her in hiding, as a form of extreme coercive control. There's been talk of a mystery man she may have been involved with, an older married man, engaged to be married, who can only legally be referred to as Mr X.
But police will not discuss Mr X, who has denied his relationship with Leah was any more than friendship - or any other named individual. They have disclosed previously, however, that nobody has ever been arrested or interviewed as a suspect since the case began.
"We do not have any information or evidence that would suggest there is anyone with the means or inclination to support her that way," says DCI Howard.
"There is no information at the moment that Leah has been a victim of crime or that anyone else was involved in her disappearance."
When asked if suicide could be a possibility, despite extensive searches failing to find a body or any of Leah's possessions, he replies: "We think there was a lot going on in Leah's life at that time. She had anxieties.
"There is evidence there was a relationship where her feelings were not requited - perhaps an unrequited love."
He adds: "She was anxious about going to work that week. Her grandad was ill in hospital... She was disclosing some of these worries to her friends.The worries may not have been different to any other teenager's worries. But people react differently.
"We have always said one of the theories is that Leah has taken a decision herself and could self harm."
Police officers have spent hours talking to Leah's friends and minutely examining her texts and social media interactions with them.
Equally they have scrutinised CCTV at every possible point on her two mile walk to work, from her house on Quantock Crescent, Emerson Valley to the DFC finance company's offices in Davy Avenue, Knowlhill, where she had an admin job.
Frustratingly there are large gaps in Leah's route where there was no CCTV two years ago. Police spent days door knocking houses on the route she could have taken. Many had security CCTV or doorbells that film people close to their houses - but none had detailed images of people walking past.
"You can see little black blobs - they could be anyone," says DCI Howard.
"We've had 600 pieces of information and sightings - we just had not had any confirmed sightings of Leah beyond Buzzacott Lane (Furzton) at 8.16am on February 15 two years ago.
"I find it impossible to believe that nobody else has seen Leah beyond that point."
He has today released a photo of Leah taken at a theme park before she disappeared. Significantly she is wearing the same black jacket she wore on the day the vanished, and the rest of her clothing is very similar. He is urging people in the Emerson Valley, Furzton and Knowlhill area to study the photo and cast their minds back to the morning of February 15, the day after Valentine's Day, 2019. Did they see Leah?
You can study the Citizen's timeline of events here and a route map here. We're talking about a single square mile.
Police have released details of a new sighting at 8.20am of a young woman dressed in dark clothes walking past Tellytubby Hill on Furzton, opposite the Tesco Express. Most of her route, apart from Furzton Lake, was in built-up, largely residential areas, which would have been bustling with commuter traffic, school run families, joggers and cyclists.
There were two possible sightings at Furzton Lake later that morning, both of a female looking distressed and using her phone. They have still not been able to confirm whether or not this was Leah - but no other young females have have ever come forward to say it was them, says DCI Howard.
The sightings were between 9.30am and 11.15am. However, police know Leah's phone was switched off or left the network at 8.34am, at the eastern part of the lake.
"So it could have been Leah even though we know her phone has left the network by then. But there are things she still could have been doing on her phone that were not going through the network," says the DCI.
There is also the possibility that Leah had a second phone and was plotting to vanish - although this is a scenario the family of the quiet, home-loving teenager finds difficult to believe. But location settings were turned off at the eastern part of the lake the previous evening, when she mysteriously slipped out for a short time on Valentine's Day. They were never turned back on. Why?
Two years on, all we have are theories and hypotheses. Do police, despite their extensive efforts, actually know anything today that they didn't know 24 months ago?
"There's not much," admits DCI Howard. "The simple fact is that we do not know what happened to Leah. People go missing regularly. The vast majority of the time there is an element behind it that helps us understand why and where they went... We just do not have that information about Leah.
"Mystery really is the word. It's bewildering and frustrating...It's been an increasingly frustrating investigation."
With a £10,000 reward still on offer, he is urging people to come forward with even the tiniest piece of information they may think is irrelevant.
"The smallest piece of information may just make a difference. It could mean we find Leah," he says.
"I remain absolutely confident that we will find her. And I will not give up until we do."
Anybody with information should call police on 101 or Crimestoppers anonymously on 0800 555 111.