Residents protest about sudden plans to radically change their Milton Keynes estate and sell off land for large discount supermarket
They had no idea it was coming, they say
Watch more of our videos on Shots! 
and live on Freeview channel 276
Visit Shots! now
Residents on Galley Hill are objecting to an 'out of the blue' plan to revamp their estate and sell off land for a large discount supermarket, believed to be Aldi.
The residents' association has been negotiating with MK City Council for years about the future of the large and derelict former Arts Centre on the estate, which they want to see returned as a community building.
But last month the council suddenly ended this discussion – and presented the association with an 16-page document of proposals for radical change.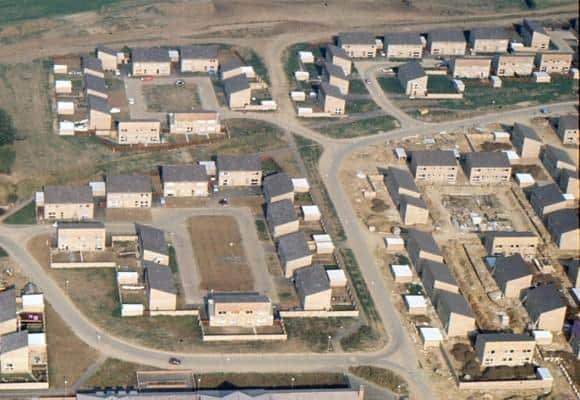 These include refurbishing the Local Centre, including the Arts Centre, demolishing the former Watling Way swimming pool that closed down years ago, and converting another building, currently knows as the Professional Development Centre (PDC), into a school for older children with complex special needs.
Green space that was once a school playing field will be sold off to house a new discount supermarket that would create around 50 jobs, states the plan.
The decision on whether if not to go ahead is set to be made by a single councillor, the Cabinet member for Resources, Cllr Rob Middleton, under his power to make delegated decisions.
But the Galley Hill Residents Association (GHRA) is far from happy. They conducted their own survey of every resident on the estate and 86% disagreed with the demolition of the swimming pool, which they would prefer to see re-opened, while 95% disagreed with the new supermarket plan.
Some 82% were also against the new special school proposal and the vast majority wanted to see the Arts Centre returned for community use.
Residents insist they do not need a large discount supermarket on their doorstep and believe it's being built to serve the nearby Whitehouse and Fairfiled estates, which are currently lacking any shops at all.
"Why don't they build it on their estates? We don't want it here," said one householder.
GHRA chair David Taverner said: "In an announcement which shocked the GHRA the Council ended negotiations over the refurbished former Arts Centre recently. They have announced plans to change the usage of other community buildings and also to build on green space by the school and Watling Way pool.
"GHRA are questioning that the proposals alone seem to have any benefit for Galley Hill Residents.
"We consider the selling off of land to obtain developer funding to undertake overdue repairs to a neglected building is unsustainable and obviously unrepeatable. MKCC need to find a sustainable methods to fund essential maintenance that they have neglected for so long."
Mr Taverner said the MKCC plan "came as a complete surprise" and accused the council of being "poor estate managers" who have failed to maintain facilities, environment and infrastructure on Galley Hill.
But MK City Council is sticking to its guns. An officers' report states: "Having considered the potential opportunities for our Galley Hill site, the drivers for regeneration at Fullers Slade, and the change of use to of PDC to a high complex needs school, we are working towards a phased development project at Galley Hill, which will bring benefits directly to both Galley Hill and Fullers Slade residents."