Second hotel chosen to house up to 250 asylum seekers in Milton Keynes town
Local Labour councillors are objecting to the government plan
Watch more of our videos on Shots! 
and live on Freeview channel 276
Visit Shots! now
The government has picked a second hotel in Newport Pagnell to house asylum seekers, just weeks after plans fell through for the first.
The Home Office has emailed Milton Keynes City Council to say up to 250 families will now be housed in the Ramada Hotel, next to the town's motorway service station.
This comes less than a month after plans to house 200 asylum seekers at Newport Pagnell's Harben House Hotel collapsed into chaos when it was revealed that the owner had previous convictions and served a prison sentence for offences under the Proceeds of Crime Act, which included perverting the course of justice and forging documents.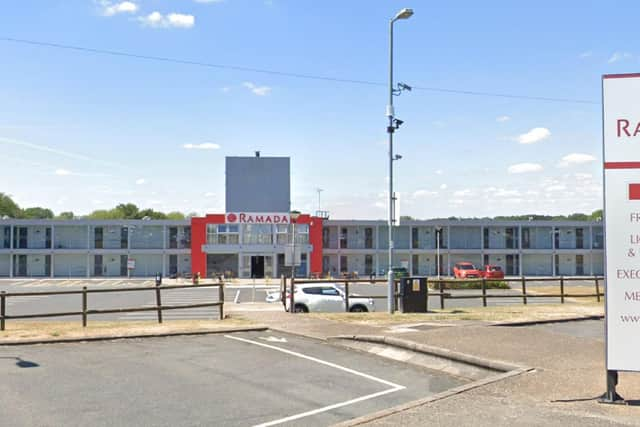 City Labour councillors have branded the new plan to house the asylum seekers right next to a busy motorway junction "incredibly dangerous".
Council leader Pete Marland said: "Placing vulnerable people next to a busy motorway service station is a terrible idea. It raises all sorts of safety issues regarding people smugglers, exploitation, and risk of absconding."
He added: "There is also a massive impact on our council budget, with 13 new refugee families seeking housing support only last week when there is already a housing crisis in the city.
"The people of Milton Keynes are generous and have a long history of supporting asylum seekers in their time of need. However, there needs to be a plan and it's clear that there isn't one from this Conservative government. There has obviously been no assessment done on the site or how using it will impact those being moved there, or the wider local community.
"It's a bad idea and we will oppose it."
The Home Office plans to place up to 250 asylum seeking families in the hotel.
This will put pressure on the city council's housing service, say the Labour councillors. . Recent figures show over 800 local homeless families are in currently temporary accommodation, costing £16m a year from the council budget.
With over 90% of asylum seekers being granted refugee status, the council is worried that housing pressures will continue to rise as local councils have a housing duty to provide accommodation to those legally granted asylum. Last week alone, the counil had 13 housing support applications from people who with newly-granted asylum.
A Labour spokesperson said: "The Conservatives' plans to open another asylum hotel in Newport Pagnell will come as a shock to residents, as only last month the government were forced into a humiliating climb down over plans to move asylum seekers into another hotel, only for it to be revealed that the Home Office was paying a company owned by a convicted criminal. Mystery still surrounds what the long-term plans are for that hotel."
Chris Curtis, Labour's parliamentary candidate for MK North, said: "It is typical that this Conservative government have made yet another proposal that is a kick in the teeth for the people of Newport Pagnell. You'd think they'd have learned from their catastrophic handling of giving cash to a convicted criminal, but it's clear by proposing this totally unsuitable hotel they have learned nothing.
"The asylum system remains a total shambles."