Tiny baby and two children rescued by firefighters from blazing house in Milton Keynes
Firefighters have rescued a terrified family of five, including a tiny baby, who were all trapped in a bathroom of their blazing house.
Monday, 27th January 2020, 2:15 pm
Updated
Monday, 27th January 2020, 3:06 pm
All five were taken to hospital to be treated for smoke inhalation, but they have all now been discharged.
But their house and possessions have all been destroyed and they were left with nothing but the pyjamas they were wearing.
However, parents all over Milton Keynes have rallied round to help after the family's plight reached social media.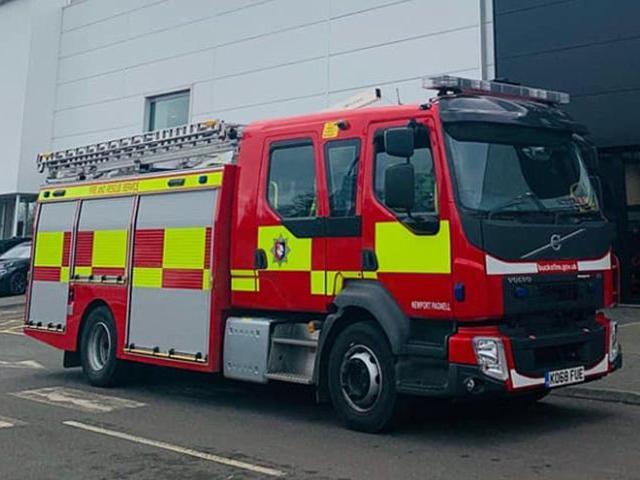 Firefighters rushed to the scene
Within hours of the fire, they had collected van loads of clothes, equipment and furniture to provide everything the parents and children needed.
Fire broke out in the terraced house in Olney just before 6am on Friday.
The seat of the blaze was downstairs and the flames spread rapidly, with thick smoke filled the upstairs where the mum, dad, two small children and a baby had all been sleeping. The baby is only weeks old.
The parents dialled 999 and were given fire safety advice to stay together in one room and put rolled up wet towels at the bottom of the door to protect themselves from smoke, said Bucks Fire group commander Steve Hawkins.
Two fire appliances and crews from Broughton, one from Newport Pagnell, one from Great Holm and one from Bedfordshire all rushed to the scene, arrived just after 6.10am.
"The crews were talking to the family, who were still in the bedroom. The fire had spread downstairs, blocking their means of exit, so they were trapped," said Steve.
Firefighters quickly doused the flames enough so they could enter the house, then rushed upstairs to rescue the family. They carried the baby and children outside, where an ambulance was waiting.
"There was some concern about the baby at first, due to smoke inhalation. But things improved as soon as they got outside. The whole family was taken to hospital for observation," said Steve.
"We were just pleased they were all okay and we had been able to get them safely out," he said.
Shortly after the fire, a friend of the family made a poignant appeal on Facebook. She said: "Hi guys, my friend and her family were in a fire. Everyone has got out ok, thank god ,but everything they own has gone.
"She has got three kids one being her baby. Has anyone got a Moses basket, blankets anything they could possibly donate? I know she would be forever grateful."
The pleas for help was shared among parent groups all over MK, including the local mums site Misadventures in Motherhood.
Later the same day the friend posted again, saying: "Wow, I never realised the power of Facebook until today. It broke my heart this morning getting a phone call from my best friend in tears saying that her kids are in hospital and all her possessions have been burnt in the house fire.
"But with the power of Facebook we have managed to get her kids and her all the necessities that they need...My house is filled to the brim for the family just waiting for them to come out of hospital and be settled and then organising to take everything over to them."