Tip booking system 'broken beyond repair' with thousands of missed appointments every month, say Milton Keynes Conservatives
New data has shown 200 tip appointments a day are being missed and going down as no shows in MK.
Tuesday, 27th April 2021, 2:03 pm
Updated
Tuesday, 27th April 2021, 2:10 pm
And local Tories have called for the system to be scrapped, branding it a waste of time.
They say MK residents are becoming increasingly frustrated with the inconvenience of the system, introduced last year during lockdown and then made permanent by the Labour run council.
Council figures show people are failing to turn up for an average of 6200 tip appointments each month.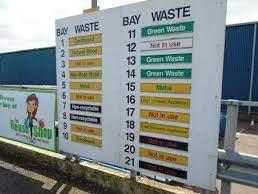 Thousands of people are failing to show up after making appointments to visit tips in MK
"This means reservations to dispose of waste are literally being wasted," said local Conservative leader Alex Walker.
He says a spin-off of the tip-booking system has been a rise in fly-tipping, with people who can't be bothered to make an appointment dumping their rubbish on roadsides instead.
"This is backed up by a report into a review of fly-tipping behaviour by Zero Waste Scotland that states imposing barriers to access and disposal can motivate fly-tipping," he said.
"Since the launch of the tip-booking system, fly-tipping in Milton Keynes has surged by 16 per cent, with 500 recorded incidents of fly-tipping per month."
The whole appointment-only system is "deeply inconvenient and frustrating" for residents and should be ditched, said Cllr Walker.
The Tories are also calling for new charges on DIY waste such as hardcore, rubble and soil to be scrapped.
If elected to take control of MK Council in May's elections, the Conservatives say they will wage a war against fly-tipping and litter with investment in mobile-CCTV for every ward to target hotspots and support enforcement.
They also pledge to introduce a temporary waste amnesty that would see free short-term community skips and free bulky collections in areas with high rates of fly-tipping.
Cllr Walker said: "Labour's tip-booking system is broken beyond repair. Over 200 appointments are being missed every day because it's deeply inconvenient for residents. The booking system served its purpose during the pandemic, but now it has got to go.
"There are absolutely no excuses for fly-tipping but the research shows that raising barriers to waste disposal for residents leads to more fly-tipping, yet Labour continues to do just that.
The total number of tip slots available daily in MK is 1248. Bleak Hall and New Bradwell household waste sites have 432 apiece, while Newport Pagnell has 384.
During the first quarter of this year, the failure to show rate has been 16.5 per cent, according to council figures.
MK Council officers believe the booking system, apart from keeping people socially distanced, will save the council £160,000 a year.
Councillor Emily Darlington, Labour's Cabinet member for public realm and housing services, has said in the past that the system has proved successful and had revealed abuse by business who pretended to be council tax payers to avoid business fees.
The system also stops visitors from other council areas using MK waste disposal facilities.
Cllr Darlington has also revealed that 80 to 90 per cent of the city's fly tipping comes from residents who leave their black bags out on the wrong day.
Labour Council leader Pete Marland said: "
Under the Conservatives fly-tipping is up 300% nationally. There is no evidence at all the booking system is connected to fly-tipping in Milton Keynes, where the increase in fly-tipping is far less than than the national average.
"There have been over 200,000 bookings for the tips since the system was introduced and over 30,000 in April, a 19 per cent increase. Slots are available across the week and restrictions such as social distancing are eased more and more slots will become available."
He added: "MK Labour's priority is tackling the issue, not promising to do things that won't make any difference to the problem. We are investing in more CCTV to catch fly-tippers and we will recruit an additional Environmental Crime officer to help prosecute more of those that break the law."