Milton Keynes local council elections 2021: who are the candidates standing in my area?
When are the elections for Milton Keynes Council and how can voters make up their minds to select from the candidates? Read on for this guide to how to take part deciding the future of the borough.
Tuesday, 4th May 2021, 6:14 pm
Updated
Tuesday, 4th May 2021, 6:16 pm
Whether you are looking at casting your cross on Thursday for Labour, the Conservatives, the Lib Dems, the Green party, independents, or the smaller parties, this will help you through the process.
When are the local council elections?:
Voting in the local elections will take place from 7am to 10pm on Thursday, May 6, 2021 at the 134 polling stations across the 19 wards that make up Milton Keynes borough.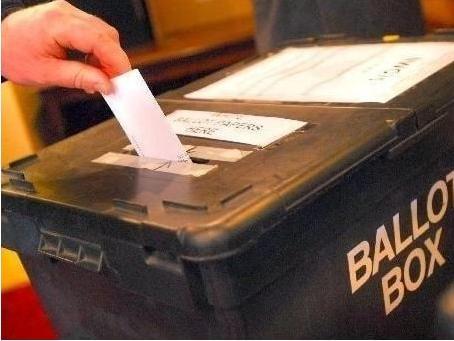 A ballot box holds the votes cast in a polling station
Masks, social distancing, one way systems, and hand sanitiser will be in place. More staff will be around than usual to control any queues and wipe down touch points.
Voters are also being encouraged to take their own pens and pencils to make their democratic choices – although pencils will be available.
Who are the candidates in my area?
Milton Keynes borough is divided into 19 wards, each with three seats for councillors, which makes 57 in total.
If your name is on the register of electors the ward you live in will be shown on the polling card you should already have received, as will be the address of the polling station you should attend.
If your name is not on the register of electors, you will not be able to vote this time round.
The wards and candidates are as follows with the name of their party in brackets. * denotes sitting councillor defending the seat.
Bletchley East: Ed Hume (Lab and Co-operative); Angela Susan Kennedy (Independent); Sean Douglas McCabe (Lib Dem); Shazna Muzammil (Cons); Daniel Micheal Ribton (UUK Independence Party) and Axel Hans Segebrecht (Green).
Bletchley Park: Jane Anne Duckworth (Heritage Party); Mo Imran (Cons); Michael John Sheppard (Green); and Elaine Wales* (Lab).
Bletchley West: Ben Adewale (Lib Dem); Ray Brady (UK Independence Party); Jo French (Green); Nigel Long* (Lab & Co-operative) and Adam James Rolfe (Conservative).
Bradwell: Marie Bradburn * (Lib Dem Focus Team); Simon David Cosby Jackson (Green); Krishna Murthy Panthula (Cons) and Craig Tildesley (Lab).
Broughton: Uroy Dale Clarke (Lib Dem Focus Team); John Howard Hearnshaw (Cons) and James Holland (Lab).
Campbell Park & Old Woughton: Carol Barac (Green); Stephen Brown (Lab); Charlotte Amada Hall (Cons) and Nana Ama Vivat Oguntola (Lib Dem Focus Team).
Central Milton Keynes (two to be elected): Adeola Olusiji Adeliyi (Cons); Liam Jack Andrews (Cons); Sarah Rhiannon Griffiths (Lib Dem); Russell Frederick Houchin (Lib Dem); Darron James Kendrick (Independent); Ben Nolan (Lab); Dominic John Malcolm Taylor (Green); Pauline Anne Wallis* (Lab).
Danesborough & Walton: Victoria Hopkins * (Cons); Michael Charles Kemp (Lib Dem); Shanika Caitlin Mahendran (Lab); Peter William Skelton (Green).
Loughton & Shenley: Garrath Jonathan Green (Lib Dem); Zoe Nolan * (Lab); Vanessa Skelton (Green); Ethan Ronan Wilkinson (Cons).
Monkston: Naseem Khan (Lab); Vanessa McPake * (Lib Dem); Jaime Tamagnini (Cons).
Newport Pagnell North & Hanslope: Greg Duffield (Lib Dem); Sha Khan (Lab); Chris Wardle (Cons) and Jane Deborah Whild (Women's Equality Party).
Newport Pagnell South: Scot Antal Balazs (Cons); Andy Carr (Lib Dem); Alexander David Chapman (Lab); Holly Jones (Green).
Olney: Dee Bethune (Lab); Keith McLean * (Cons); Tony Oyakhire (Lib Dem) and Catherine Jean Rose (Green).
Shenley Brook End: Peter Paul Cannon * (Lib Dem Focus Team); David Richard Cockfield (Lab); David Anthony Lewis (Green); Chris Taylor (Cons).
Stantonbury: Chantelle Marie De Villiers (Cons); Peter Edwards (Green); Alan Mallyon (Lib Dem); Martin Ronald Petchey * (Lab).
Stony Stratford: Richard Michael Greenwood (Lib Dem); Joseph Hearnshaw (Cons); Gary Nicholas Lloyd (Green); Akash Dipak Nayee (Lab and Co-operative).
Tattenhoe: Lucy Rebecca Bjorck (Green); Shery Delfani (Lab and Co-operative); Manish Mohan Verma (Cons); Steven Walden (Lib Dem).
Wolverton: James Stuart Evans (Reform UK); Alan Herbert Francis (Green); Mike Galloway (Independent); Ansar Basir Hussain (Lab); Thais Portilho (Lib Dem); Jonathan Sam Street (Cons).
Woughton & Fishermead (two to be elected): Johanna Elizabeth Breen (Green); Donna Fuller (Lab); Ray Arthur Lewis (Cons); Amber McQuillan (Lab); Raissa Roy (Lib Dem); Tatiana Vassilakis (Cons); Terry White (Lib Dem).
Political parties in Milton Keynes have produced their manifestos, or lists of promises if they win control.
We have focused here on the parties fighting at least half of the seats on the council. But also standing are Indpependents (3); UKIP (2), the Women's Equality Party (1); Reform UK (1) and Heritage Party (1).
Labour has policies focusing on supporting working people, helping families and tackling climate change.
A national opinion poll published on Twitter by @BritainElects on Monday, May 3, showed the Conservatives on 40 per cent, Labour on 38 per cent, the Lib Dems on 7 per cent, the Greens on 5 per cent and Reform UK on 3 per cent.
But that figure is not necessarily the case across the board. For example on Milton Keynes Council the Lib Dems are much stronger than national polls would suggest, and are currently in a partnership with Labour who were the largest party group going into the elections.
Other factors can also come into play.
Are there any other elections happening on the same day?
Yes. There will also be elections for the next Thames Valley Police and Crime Commissioner (PCC); a range of seats parishes in Milton Keynes. The residents of Stantonbury ward will also be asked to vote for or against a neighbourhood plan for the area.
When will we know the results of the local elections 2021?
The borough and parish council results will be known on Saturday (May 8) while the PCC votes and the Stantonbury will be declared on Monday (May 10).