Sonic boom heard across Milton Keynes after RAF fighter jet reaches speeds of up to 920mph
Here's what we know
Watch more of our videos on Shots! 
and live on Freeview channel 276
Visit Shots! now
Thousands of people reported hearing a sonic boom over Milton Keynes and the surrounding areas last night – here's what we know.
The jet reportedly reached speeds of around 800 knots, which is equivalent to 920 miles per hour.
Because of its speed, the jet created a sonic boom due to it travelling faster than the speed of sound, which is around 760 miles per hour in the air.
And because the jet was around 40,000 feet in the air, the sonic boom creates a 'carpet' of sound which travels one mile for each 1,000 foot of altitude, meaning the sound could have travelled 40 miles wide.
An RAF spokesman said: "The sonic boom heard across parts of England yesterday evening was caused by RAF Typhoon fighter aircraft who were launched from Quick Reaction Alert at RAF Coningsby, the aircraft were authorised to transit at supersonic speed for operational reasons.
"The RAF is responsible for policing UK airspace and would prefer not to cause any disturbance to those on the ground, however, the safety and security of the nation remains paramount & the RAF must continue to robustly secure the UK skies and maintain national security in an unpredictable and dangerous world."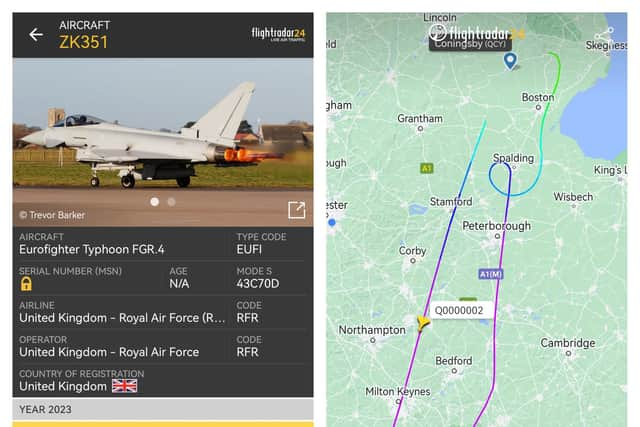 Quick Reaction Alert QRA is a routine part of the RAF's air defence role to protect UK airspace.
The RAF's (QRA) aircraft are held at immediate readiness to protect the United Kingdom and can take off within minutes.
QRA are launched to intercept unidentified aircraft because the aircraft cannot be identified by any other means. i.e. the aircraft is not talking to civilian or military Air Traffic Control, has not filed a flight plan and / or is not transmitting a recognisable secondary surveillance radar code.
A sonic boom is a sound associated with shock waves created when an object travels through the air faster than the speed of sound. Sonic booms generate enormous amounts of sound energy, sounding similar to an explosion or a thunderclap to the human ear.
The crack of a bullwhip are examples of a sonic boom in miniature.