£500m project to improve congestion hotspot connecting Milton Keynes is formally approved
The plans have moved a step closer to fruition after the Planning Inspectorate formally approved the works, yesterday (March 24).
Thursday, 25th March 2021, 9:50 am
Updated
Thursday, 25th March 2021, 9:52 am
The dual carriageway will link the A1 Black Cat roundabout in Bedfordshire to the A428 Caxton Gibbet roundabout in Cambridgeshire.
A new junction will be added on Cambridge Road, improving access to St Neots and its train station. Further upgrades are planned on existing junctions on this stretch of road.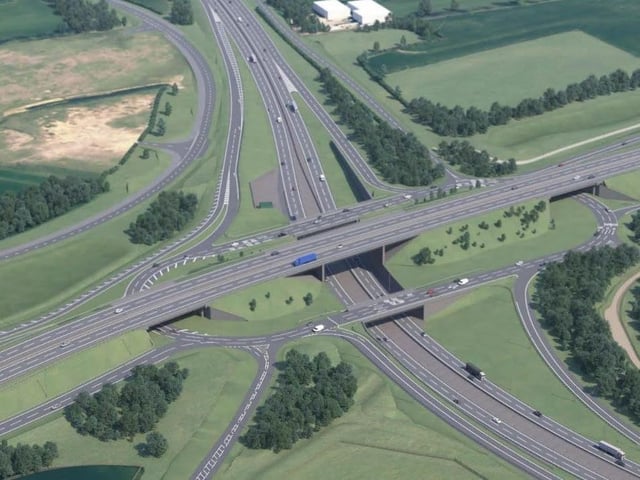 Once complete, the Black Cat roundabout in Bedfordshire will have three tiers
The next phase of the approval process will see the Planning Inspectorate carry out a full examination. If happy with Highway England's proposals the officials will grant a Development Consent Order, which will help to inform the Secretary of State for Transport when deciding whether to give the green light for construction to begin. 
If approved the project would remove  the only remaining section of single carriageway between Milton Keynes and Cambridge.
This project is designed to improve traffic flow across one of the most notorious areas of high congestion in the South East.
Lee Galloway, a director at Highways England, said: "The A428 Black Cat to Caxton Gibbet improvements scheme will transform one of the busiest road links in the East of England, helping to save drivers who live, work and travel in and around Bedfordshire and Cambridge an hour-and-a-half on their journeys every week.
how the Black Cat roundabout in Bedfordshire currently looks
"The decision to accept the DCO application represents a major milestone for the scheme, not only for us as the project team but for all those who have supported this project over a number of years."
Other proposed junction improvements on the project include: a three-tier junction at Black Cat roundabout allowing free flowing traffic onto the A1 and the new dual carriageway. Which are designed to create better routes for walkers, cyclists and horse riders and improve connections to St Neots and its train station.  
Around 24,000 vehicles travel on the A428 between Cambridge Road and Caxton Gibbet every day. With considerable local housing and job growth expected, this number is likely to increase to around 33,000 vehicles by 2040.