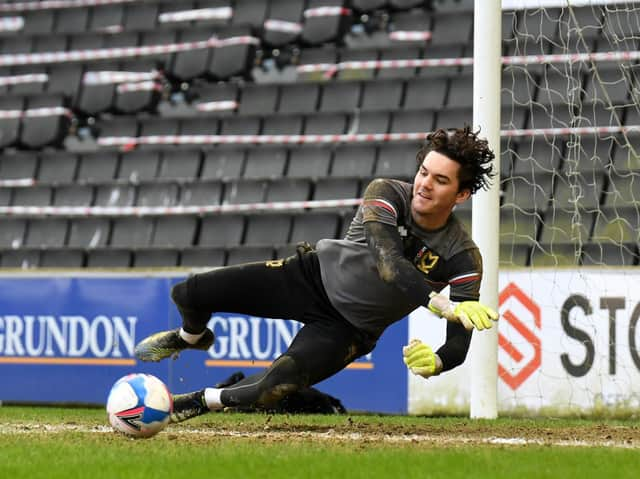 Lee Nicholls
No player likes sitting on the bench, but Lee Nicholls said his experiences coming through the ranks taught him to be supportive despite his disappointment.
Andrew Fisher took over as Dons' first choice keeper in October, limiting Nicholls, who had been the club's number one since early 2017, to just six appearances in cup competitions since.
It was announced on Thursday that Nicholls, along with Kieran Agard, Jordan Houghton and Joe Mason, would depart the club when their contracts expire at the end of this season.
Sat behind Fisher in the pecking order for 39 games this season was tough, Nicholls admitted, especially after four years as the club's clear first choice. But he said he drew on the experiences of his early career at Wigan, where he played prior to joining Dons in 2016, where he saw how Premier League-calibre keepers conducted themselves when they were left out of the side.
"Obviously it's difficult," he said. "It goes without saying every player wants to play, it doesn't matter what position that is.
"When it happened, I looked back over my career and when I've been playing or not, the other keepers around me who were great examples. When I came here, David Martin was a great example for me, when I was at Wigan I worked with Scott Carson, Chris Kirkland and Mike Pollitt who were not always in the team. They paved the way for how I should act.
"I looked back over my career and thought I wanted to leave a mark wherever I can and set myself a goal to help Fish in any way possible."
Though still only 28 with many years in the game still ahead of him, Nicholls has been tipped by goalkeeper coach Dean Thornton to take up a spot behind-the-scenes when his playing career comes to an end. He admitted it's not something he had considered yet, but Nicholls said: "I'd never considered it until this year. I've always liked helping people. When the young lads come up, I always take them to one side and give them advice, tell them what to work on or give them tips. That's a long way down the line though!"