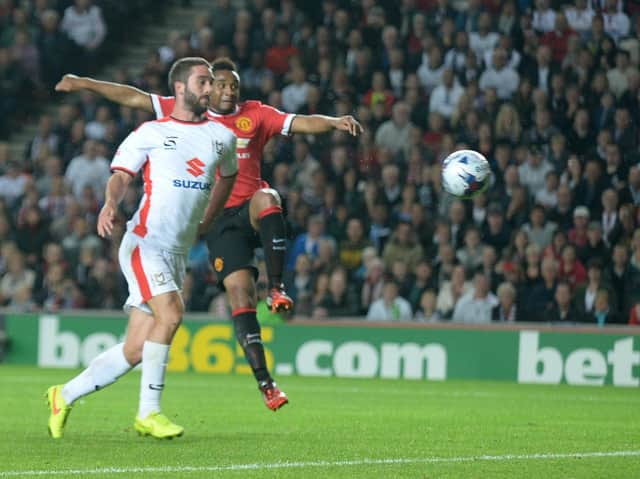 Will Grigg scores with his chest against Manchester United
After denying rumours of it last week, a move for Sunderland striker Will Grigg is still on the table at MK Dons.
The 29-year-old is out of favour by manager Lee Johnson at the Stadium of Light, and is understood to be keen on a return to Milton Keynes today.
The Northern Ireland international scored 22 goals during a loan spell in 2014/15 which helped Dons secure promotion to the Championship.
Martin likened the Grigg rumours with those regarding Scott Fraser last summer - initially thinking a move for the player was dead in the water before a late reversal in fortunes. And with it, a move for Grigg is back on the table.
"With Will, when I spoke to you last week I was being honest!" Martin said. "It's the same as the Scott Fraser scenario, I never saw him signing for us and as quickly as he did. He was on his way somewhere else but we really had a go at it and he was signing here within 48 hours.
"I was truthful last week when I said I didn't think it would happen, but this time, the situation has changed and a lot of people are still interested, including ourselves. We'll have to wait and see.
"He's a very good player at this level and a lot of clubs are interested in him."
Dons are also interested in signing Walsall defender Zak Jules to bolster their back line after losing four players back there this month.
"He's a player we've monitors and a player I like. But he's Walsall's player, so we'll have to wait and see. He's been on the list."
After letting six players depart this month, Martin says he is not expecting anyone else to go and admits anyone leaving would come as a surprise.
He added: "There has been a lot of change, a lot more than you'd usually like but that's how it is with the summer window the way it was. I'd be surprised if someone left, but we have to be prepared just in case."