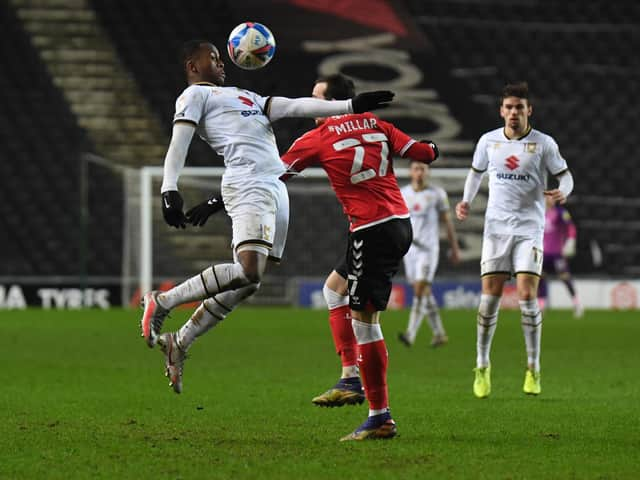 Ethan Laird in action against Charlton
Russell Martin said Ethan Laird did not produce enough in the final third in last night's 1-0 loss to Charlton Athletic.
The 19-year-old Manchester United loanee was making just his fourth appearance for Dons since signing earlier this month but he, like the rest of his Dons team-mates, struggled to make much headway against the Addicks' defence at Stadium MK.
"Ethan has a lot more to come, I was disappointed in the final third with him tonight," said manager Martin. "He's shown glimpses and is coming up to terms with League One football. He's shown his outstanding ability, he's now got to perform on a consistent basis and understand what it'll take to be a top player.
"He can be really exciting and powerful, and tonight he had more chanes to be aggressive and sometimes chose the safer option. It's understandable. He's going to be a very big player for us. We have to be honest with these guys and push them to be better. Tonight he had a big chance and that's probably why I'm disappointed."
Despite the lacklustre showing against Charlton though, Martin believes Laird will improve the longer he remains at Dons and will return to Old Trafford a better player.
Martin continued: "He'll only get better, he's not had much work on the training pitch. He' going to be great for us.
"He's been really receptive and really positive he's always smiling and is very powerful and strong. He's got great pedigree and a good mentality. He wants to use this as a springboard to go play well at Man united and the only way he can do that is playing well here.
"He's been great but it's been a wake-up call in terms of league football. There is a lot to come from Ethan, he wants to learn and brings a lot of positivity and energy to the group."