Dons' defence has to move on from mistakes but also stop making them
"Some of the football has been spectacular, so well worked and rehearsed and fantastic to watch, so it makes the errors difficult to accept"
Monday, 15th March 2021, 12:24 pm
Updated
Monday, 15th March 2021, 12:28 pm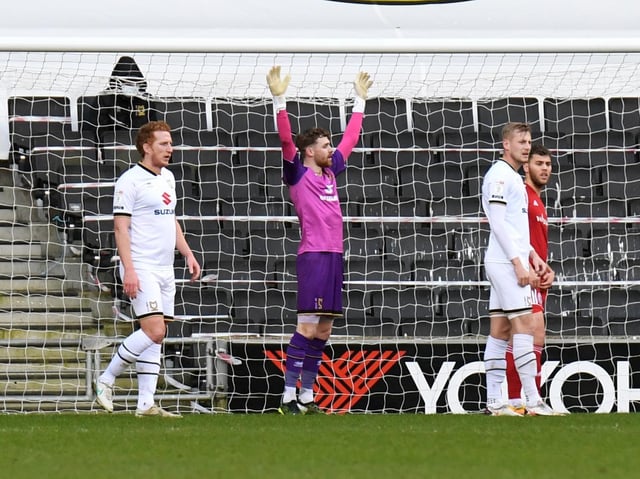 MK Dons defending a corner
Errors at the back have cost MK Dons a lot recently, but while mistakes can be forgiven, Luke Williams they are aiming to eliminate them completely.
Accrington scored twice on Saturday as Dons' hard-fought 2-0 lead evaporated in a seven-minute spell, before Matt O'Riley's stoppage-time header won it for Russell Martin's side.
But mistakes at the back keep costing them of late: a loose pass from Scott Fraser played Andrew Surman into trouble to allow Dion Charles to tap in unmarked to get Stanley back into the game; Harry Darling's slip let Blackpool strike Jerry Yates score the only goal of the game last week; a poor ball from Andrew Fisher at Wigan allowed them to net their third; Surman's header back to the Dons keeper let Gillingham striker Vadaine Oliver fire them into the lead; two penalties cost them at Shrewsbury.
Given how Dons pride themselves on their confidence on the ball, assistant manager Williams said the manner in which they have been conceding of late is a sign of how early Dons are in their development, and that the mistakes need to be forgiven and, primarily, eradicated.
He said: "It's difficult to take but we would be more concerned if teams were dominating and tearing us apart. We'd prefer not to concede at all! When we have so much control, we shouldn't concede scruffy goals but we are a work in progress and I'm sure everyone would say that.
"We would be wise to have a longer-term view on these guys and we'll see and improved version of the team with higher concentration levels with better anticipation, and some anxiety control.
"We've also got guys in there with a lot of experience but not a lot of regular experience recently, and they're suffering similar problems too, when fatigue sets in, mistakes can happen. But I think that's where we are.
"Some of the football has been spectacular, so well worked and rehearsed and fantastic to watch, so it makes the errors difficult to accept, but we have to accept them because that's where we are."
Speaking last week, Russell Martin said his side were still in transition this season as they transform into a side he wants them to be. But with that transition, the club have kept just 11 clean sheets from 45 games in all competitions this season.
"It's something we must get right if we want to be successful moving forwards," Williams continued. "To defend relentlessly and only play for a clean sheet and then not succeed can leave you feeling despondent because you didn't give yourselves a chance to win the game. We all have seen teams defend so much and then if they don't win, they're lost because they have nothing to hang on to.
"This group gives you so much hope because they can score goals and control games. If we can become more clean at the back, we should be really excited about this group."