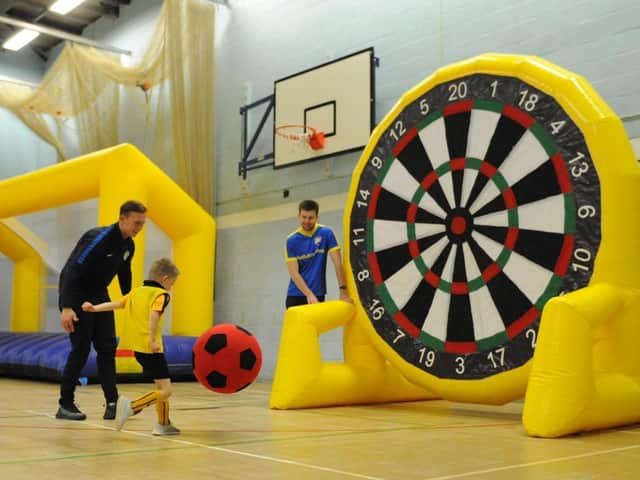 The Football Fun Factory
Seven years ago, Luke Chadwick was sliding Izale McLead through on goal at Stadium MK. In 2021, the pair have reunited to bring the Football Fun Factory to Milton Keynes
Intent on ensuring youngsters grow a love of the game, FFF is a camp for children of all ages to play without pressure. Playing football-related games, young talent is encouraged to play for fun. From bouncy castle goals to inflatable football dartboards, the FFF has grown across the east of England.
Chadwick, who made nearly 250 appearances for Dons between 2008 and 2014, has brought in Dons' all-time leading scorer McLeod and fellow coach Luke Russell - who has developed a name for himself in the grassroots game - to be franchisees to bring the FFF to Milton Keynes.
"We're delighted to be setting up in Milton Keynes," said Chadwick. "We use football as a vehicle to develop positive life skills like team work, communication, sportsmanship and supporting those characteristics.
"We've all come from academy backgrounds, but it's so professional so young, when it turns them into mini-professional footballers rather than enjoying themselves. When I was seven-years-old, I don't remember tactical advice, I just remember loving playing football.
"I went down the coaching pathway, got all my qualifications, got a great job but I never woke up every morning thinking I was loving what I was doing. But this makes me feel young again, like my first experiences playing football. If I didn't enjoy it as a seven-year-old, I'd have never become a professional. It's an incredibly rewarding thing to be a part of."
McLeod has had several roles at Stadium MK since retiring from the professional game, but his involvement in FFF is a perfect fit for his personality according to his former team-mate.
Chadwick continued: "Izale was really focussed on what he was doing on the pitch - a real natural goal-scorer. But he's a great guy off the pitch. He thinks about other people a lot more off the pitch than he did when he was scoring goals past them on it! He has a massive heart, he wants children in the community to have fun.
"He sees Milton Keynes as his home and has great links in the community now. He wants to give something back to the community."
Registration for sessions in Milton Keynes is underway with both Izale and Luke. For more information, visit thefootballfunfactory.co.uk