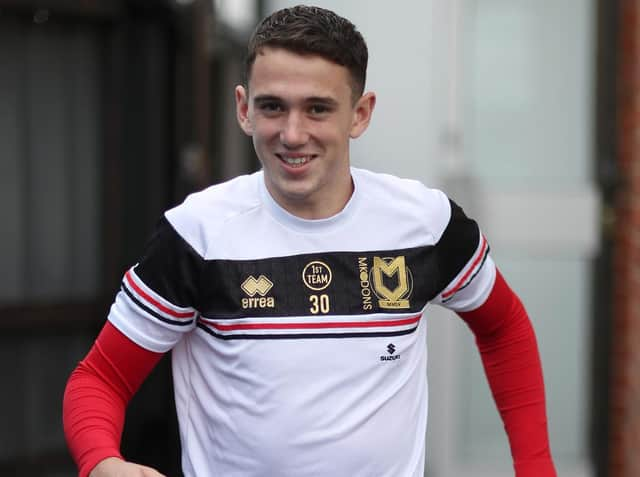 John Freeman
Midfielder John Freeman said he has to remain patient and bide his time before making more first team appearances for MK Dons.
The 19-year-old has made 11 appearances for the club this season - his first for the club - after coming through the academy. Two long-term injuries though have stunted his progress as he would have liked, but his new contract keeps him at Stadium MK beyond the end of the season when he hopes to make more of an impact on Russell Martin's first team.
"I'm over the moon," Freeman said. "I'm a fan of the club and I love the club so to be able to sign and remain a part of the process is a dream.
"I am very grateful to Russ and all the staff for being able to get some game time this season and for the opportunity so far. I definitely have to look at the bigger picture - I want to be in the first team and making a difference as soon as possible but I am nowhere near the finished article yet and this season has been about developing myself.
"I'd love to play a couple of games before the end of the season but it's up to me to do work my way in. That's going to be tough because of the midfielders we've got, but I've got to fight in training to earn my minutes."
Manager Martin added: "We're really pleased for Jonny. He's a great character to have around the building and we look forward to being able to develop him even further.
"He still has a lot of development to go through, both physically and technically, but he's got a brilliant attitude. He's shown a lot of resilience and determination and has already a come a long way.
"It's another sign of intent that we are trying to bring local players through our academy and into the first team."