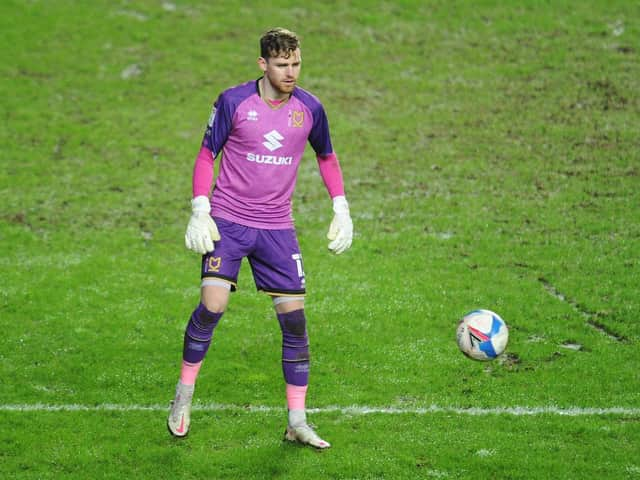 Andrew Fisher
Getting Andrew Fisher, Lee Nicholls and Laurie Walker confident with the ball at their feet rather than in their hands is a challenge not just for the trio themselves, but also for coach Dean Thornton.
The role Dons' goalkeepers play, it's fair to say, differs somewhat from what others in League One are expected to do. Spending more time on the ball, more time outside the penalty area, making more short passes than long ones, there have been some heart-stopping moments when they come under pressure. But only on a handful of occasions have those moments cost Dons goals.
Not only a change in approach for the way traditional keepers have been expected to play down the years, Dons' style of play has also meant a change in approach for the coach too. Thornton admits some more tried-and-tested training programmes have had to take a backseat as the keepers do more and more work with the ball at their feet rather than in their hands.
"It can be difficult for me too, because I have to change the structure of the week for the way we want to play," Thornton explained. "I miss certain bits where we don't necessarily get a chance to work on some things, but the way we play, I can get away with it because we have a lot more of the ball.
"In most games, a keeper might make 10, 12 saves. Ideally we'd want none, but in our games, we might get two or three. I get a lot more time working with them playing with their feet, but that's just the way I have to manage the week, the month, the year to what we work with in the philosophy. It takes a lot of planning.
"It's different. The gaffer puts a lot of emphasis on the keepers. The football world moves in cycles and at the moment, it seems the goalkeepers are being used a lot more than previously. For me, I love it.
"Going back to when I was playing with Russ, I loved it. I never understood putting the ball down and putting everyone 50, 60 yards up the pitch for me to smash it. I preferred passing the ball – maybe because I didn't have the power to kick it that far!
"All three keepers here have been fantastic here with how we've implemented training and they've all bought into how we want to play. It's not entirely unique because other teams do it, but we've added to it and we put a lot of pressure on the boys. I don't think they get as much credit as they should."