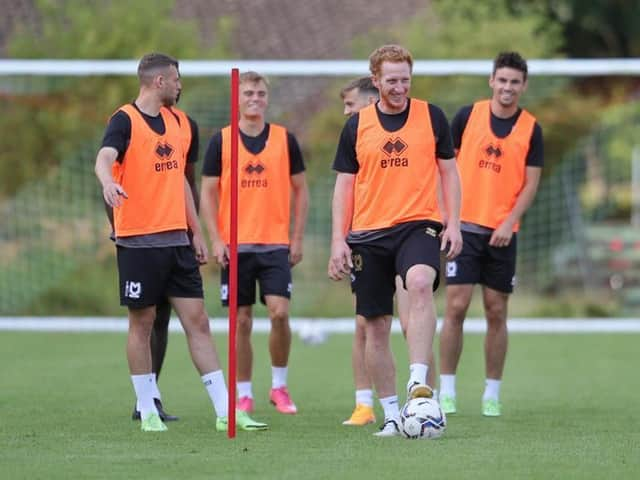 Dean Lewington led training this week
It has been a whirlwind few days for Dean Lewington after taking on the role as interim manager of MK Dons.
The 37-year-old was an unused substitute during Saturday's 5-0 defeat to Bournemouth in the Carabao Cup, but quickly fell into the role after Russell Martin agreed a deal with Swansea City, leaving Dons on Sunday.
Lewington is one of just three senior players not to have been signed by Martin during his 20-month tenure in charge at Stadium MK, and the skipper admitted there were a lot of the squad unsure of what the future may hold.
"I've has been trying to plan sessions the boys will enjoy, trying to get them well prepared as much as we can, keeping things normal."
However, following a meeting on Monday with the team where Lewington let the players get their feelings off their chest, he said the squad feels unified by what they have experienced in the last week.
"We got everyone in on Monday to have a chat and a bit of a moan about it, get it out of our system," said Lewington. "Since then, I've has been trying to plan sessions the boys will enjoy, trying to get them well prepared as much as we can, keeping things normal. It's a case of ticking things over as best we can.
"We've got an extremely young group of players who, barring I think me and David (Kasumu) have all been signed by Russ. So we have to wrap our arms around them. I've had lots of managers and dealt with it, but for a lot of the boys, this is the first time it's happened. So we've had to help some of the lads who are a bit bemused or overwhelmed by it.
"We drew a line under it on Tuesday and look forward to Saturday. We can only control what we can control. We can't feel sorry for ourselves or blame people, so we've got to make the best of it."
For Lewington, starting his 17th season in Milton Keynes will be completely different this time around as he lines up in the dugout in charge of the team rather than in his familiar defensive role. Sporting Director Liam Sweeting said he felt the squad were galvanised by Martin's messy departure, and Lewington praised them for getting behind him this week in the build up to Saturday's League One opener away at Bolton.
He added: "To a man, they've all trained well, had the right attitude and gone about it in the right way. The group is dedicated and wants to do well. You get the sense we'll be alright, we'll be really to go, organised, we'll know what to do and we'll give it a go.
"It will be different for me but the start of the season is always an exciting time. We want to start well, we've got a tough start we need to hit the ground running. The players are excited, you can feel the excitement building. It will be good to be back out there and do what we do best."