Live

Live: Burton Albion vs MK Dons - get the latest from the Pirelli Stadium
MK Dons take on an in-form Burton Albion side this afternoon as they look to make it three wins in a row in League One.
Saturday, 20th March 2021, 1:30 pm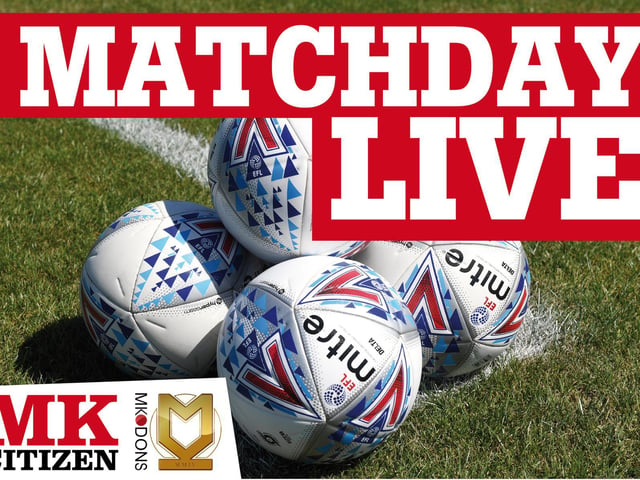 Matchday Live
Get the latest from the game.
FULL TIME: Burton Albion 1-2 MK Dons
Last updated: Saturday, 20 March, 2021, 17:10
Scott Fraser opens the scoring from the spot on 15 mins
Warren O'Hora makes it 2-0 on the hour
Akins gets one back for Burton from the spot
Other results in League One
FULL TIME!
Corrrrrrrr it got nervy towards the end there as the ref played an extra 90 seconds on top of the five he initially declared, but Dons have got over the line to make it three wins in a row!
75 mins: Dons double change
Cameron Jerome and Ethan Laird make way for Will Grigg and Daniel Harvie.
75 mins: Burton get one back
Fisher had no chance with that as Lucas Akins sends the keeper the wrong way to make it 2-1.
74 mins: Penalty to Burton
Ethan Laird brings down his man. Penalty to Burton...
66 mins: First change for Dons
The excellent Josh McEachran makes way for Louis Thompson. McEachran has shown every ounce of why he was a Championship player this afternoon. He's read the Burton midfield, shown some brilliant touches and has covered every blade of grass.
61 mins: O'Hora doubles the lead
That gives Dons some breathing room! Corner comes in, Darling wins the first header, Laird wins the second and O'Hora arrives in time to head past Garratt into the net!
55 mins: A good start to the half from Burton
The home side have looked much more lively at the start of this half. Dons have barely had a chance to get out of their own half, but as it stands, it remains set-pieces to cause them problems.
50 mins: A let off for Dons
Andrew Fisher... wow. A brilliant double save, Hemmings thinks he's got a tap-in from a yard out, but he's not only offside but the keeper has kept his effort out.
Second half
Back underway at the Pirelli Stadium, no changes for either side at the interval.
Jerome's ruled-out effort
This picture might explain why that Cameron Jerome effort was ruled out!
Half time scores elsewhere
Half time: Burton 0-1 MK Dons
More than good value for that lead, and it could have been more. Jerome's ruled-out effort comes under question from both he and Lewington at the whistle, and they have a point.
On the whole, Burton have been restricted to set-pieces really. Dons' defence has been in control, the midfield is passing nicely and Fraser is actually being given a bit of space to move in.
A strong half on the whole.
30 mins: A strong opening half hour
A really good half hour for Dons so far. Fisher has barely touched the ball, with feet or hands, and Burton have caused little to no threat besides a couple of corners.
At the other end, there haven't been many chances either, just the penalty separating the sides, but Dons are playing some really good football as Scott Fraser is actually being allowed to find space to move around in.