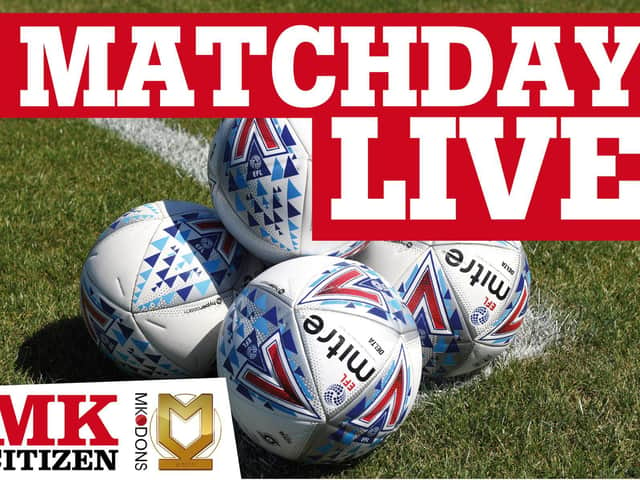 Matchday Live
Get the latest from the game.
FULL TIME: MK Dons 5-0 Swindon Town
Last updated: Saturday, 24 April, 2021, 17:04
Other results in League One
FULL TIME! MK Dons 5-0 Swindon
A comfortable afternoon. Grigg with four, Fraser with another penalty too. Comprehensive, could have been more, but will have to 'settle' for five!
75 mins: Surman makes way
He won't get his goal despite having two great chances! Andrew Surman makes way for Lasse Sorensen.
65 mins: Should be six
Andrew Surman again with a great chance, Fraser races through and unselfishly pulls it back for Surman on his left foot, but the midfielder puts it over the bar. A great chance for Dons to make it 6-0.
57 mins: The chances keep coming
Andrew Surman has an effort from the edge of the box, but it's just about blocked off the line by a Swindon leg.
52 mins: Grigg's afternoon is over
What a game from Will Grigg. He's barely had to break sweat to be honest, but he's got four games, the matchball incoming and he's going to see out the rest of the game from the bench as he is replaced by Charlie Brown.
David Kasumu has also had a great afternoon, he's replaced by Jordan Houghton.
50 mins: FIVE!
Grigg with another! This was as easy as you'd like, with Sorinola pulling it back to Grigg unmarked about eight yards out and he finds the bottom corner.
He becomes the first player to score four in a game for Dons!
46 mins: A hat-trick for Grigg!
If it wasn't dead at half time, it is now! Grigg gets on the end of Fraser's cross into the six yard box, sliding in his third of the afternoon and his first hat-trick for MK Dons!
Second half
Back underway at Stadium MK - Dons kick-off, leading 3-0.