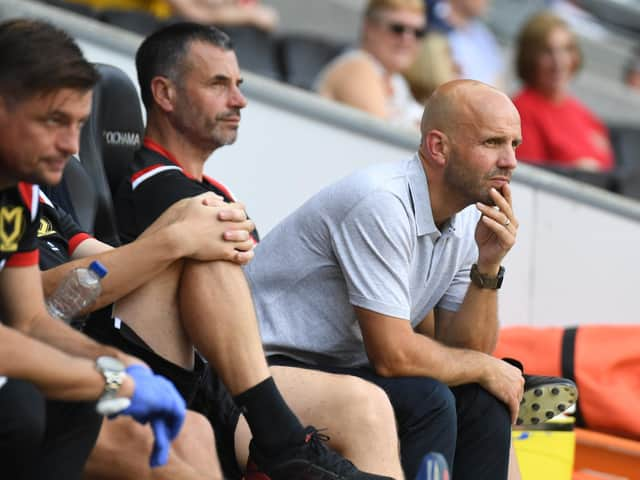 Paul Tisdale returns on Boxing Day
Russell Martin is unlikely to be spending too much time worrying about who is stood in the opposite dugout on Boxing Day despite it being a familiar face.
Former Dons boss Paul Tisdale returns to Stadium MK on Saturday with Bristol Rovers - his first time back at the ground since he was sacked in November 2019.
Martin, who replaced Tisdale in charge of Dons, said the return of his former manager will add a subplot to the game which pitches 17th vs 19th in League One, but it will not change the way they approach the game.
"It will be an interesting game," said Martin. "Him returning to the club adds a little bit for everyone else, but for us it's just another game which we will prepare for just like every other game.
"I enjoyed playing for Paul, in the end it didn't finish well, but I have respect for anyone who has managed so many games. He helped us get promoted as well. Regardless of who it is against, we want to win the game. There are a lot of players still here who played under Paul, so we might get an idea of what to expect from Bristol Rovers which might help our preparation. But for me, it's another game against someone I have respect for.
"I'm sure he'll have watched us, and will be working out ways to stop us. We're a completely different team to his, there is no right or wrong way, and ours is fairly different to his teams here. He has his own style and ideas after being a manager for a long time, and it's pretty different to mine. I'm sure he will look at it and try and find ways of implementing his game plan on us. He hasn't been there long either so he's not had a lot of time to put that plan in place."
The Christmas period is usually one fans and players alike look forward to, but this year will be very different. The schedule also means there is little difference to a usual three-game week. However, with games against Bristol Rovers, Swindon and Rochdale - all teams below Dons in the table - Martin says his team have the chance to make a big difference to their season over the festive week.
He said: "As a player, you always look forward to the Boxing Day in particular, but this year is a normal Saturday-Tuesday-Saturday, so that makes the schedule a bit easier. It can be a bit of a blur for a footballer.
"For us, there is no extra pressure just because it's Christmas. We're setting out to win against three teams in and around us. We have a chance to come away looking positive going into the new year.
"We need to bounce back from a disappointing result against Plymouth. It's a game we really want to win. We have to be really hard to beat."