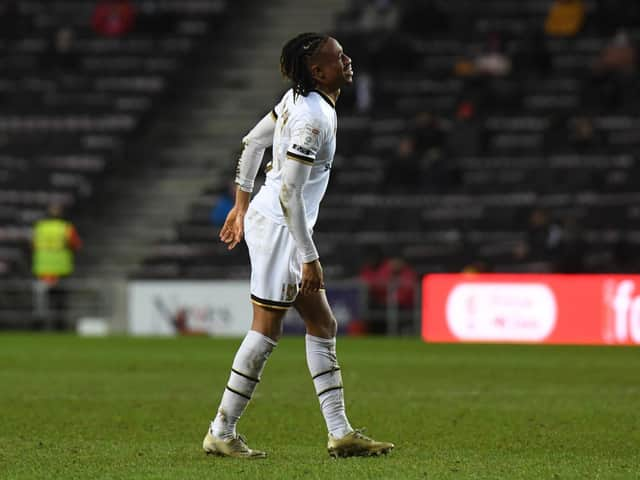 David Kasumu
There were some notable absentees from the MK Dons squad ahead of the 2-0 win over Bristol Rovers on Boxing Day.
Making four changes to his starting line-up might not have been too much of a surprise after losing 1-0 to Plymouth last time out, the missing were George Williams, David Kasumu, Matthew Sorinola, Ste Walker and Carlton Morris not just from the starting line-up but the entire squad. It meant the bench was also thin on the ground, with only five substitutes named.
With news of Carlton Morris' imminent departure to Championship club Barnsley, manager Russell Martin explain that a mixture of illness and injury ruled out.
He said: "David (Kasumu) picked up an injury on Christmas eve in training – we're assessing that. We've not been able to find the full extent of it but we hope to find out soon.
"Matty (Sorinola) was due to start but he reported a sore throat, so he has had to leave and has been tested. He lives with Ste Walker, who has been ill but has been tested and was negative for Covid, but he wasn't ready either.
"George Williams was isolating, not because he has it, but has to do the 10 days, so he will be back shortly. And Warren O'Hora came off today.
"Charlie Smith has been training with us, and he has reported symptoms too. He was due to be on the bench with us."
Martin will not have long to allow those players to recover though, with a trip to Swindon on Tuesday night up next.
"I think a lot of clubs get injuries and illness at this time of year," he said. "We have to be really aware of the pandemic. The protocols here are fantastic, and a lot of time and effort was put in place. Hopefully a few will be back for Tuesday."