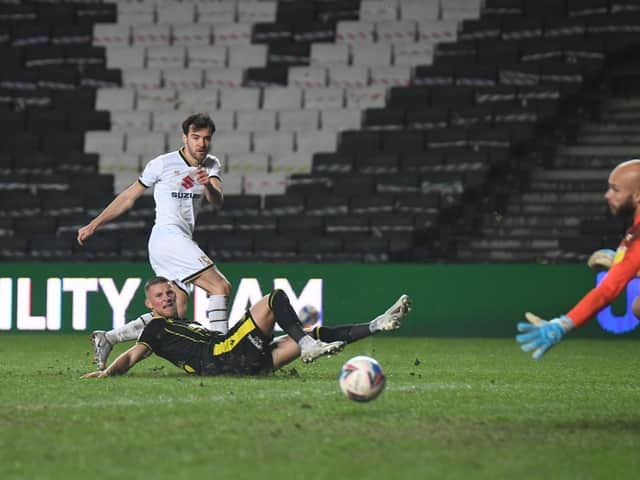 Scott Fraser scores against Bristol Roves
The midfield four of Andrew Surman, Lasse Sorensen, Ben Gladwin and Scott Fraser drew praise from manager Russell Martin after Dons' 2-0 win over Bristol Rovers on Boxing Day.
While Gladwin and Fraser scored the goals to secure the three points against Paul Tisdale's side, Surman enjoyed his best game since signing for Dons, while Stoke loanee Sorensen's stock continues to rise after a string of great showings for the club recently.
Gladwin's strike stole the headlines, with the former Blackburn man finding the top corner from 20 yards in first half stoppage time, back in the more familiar terratory of central midfield after a stint at left wing-back.
Lasse Sorensen impressed again against Rovers
Martin said: "It was outstanding – we know he has that quality. It was nice to have him in a position where he wants to be playing. He has been great at wing back but he sees himself in the middle, and it was a fantastic goal. He needs to get back up to speed in that position, but he showed real glimpses.
"The goal was outstanding. The move in the first place was great, the intensity to of the others to take players away was top drawer. And it was a great time to score, we felt it was coming. It's so frustrating sometimes that it takes someone to stick it in the top corner from 20 yards! But I'm really pleased for Ben and a goal that could have graced any game."
Fraser netted his seventh goal of the season to make it 2-0 just after the hour mark, with involvement from Surman and Cameron Jerome in the build-up. Fraser should have had at least one more goal to his name, but his boss was pleased with the one he did get.
"It was a really good goal," Martin continued. "We expected a reaction from the opposition, we didn't start the half well enough but once we tidied up and saw the space they left in behind, we felt that second goal was coming. After that, we wanted another to kill the game off but we couldn't quite get it.
"Scott is annoyed not to have more goals, he's frustrated not to score more but it's hard on that surface. For him to keep doing it on that pitch is testament to him. He has asked to do more finishing work, and that has paid off."
Sorensen's performances in the last month have been gradually improving too. After a man of the match performance against Barnet in the FA Cup second round, the Dane has been in impressive form, and continued that against Rovers. Surman too, having arrived in November after training with former club Bournemouth, has been showing glimpses of what he is capable of, playing a part in both of Dons' goals against the Gas.
Martin said: "I'm really pleased for Lasse, he was really good. I asked him to focus on his defensive duties which he did excellently. When you focus on one part of your game, the rest of it comes together. The energy he has is great and he showed some calmness and composure which was great for the team.
"With young players, you have moments you can brush up on or moment when your decision making isn't quite consistent but on the whole, he was really good today. He was important, and both he and Andrew Surman helped us keep a clean sheet.
"It was Sur's best performance as well, he's getting closer to being fully fit."