Cambridge United 1-0 MK Dons - Dons beaten on the opening day of the season
MK Dons kick off the 2022/23 League One season away at Cambridge United this afternoon.
Saturday, 30th July 2022, 4:21 pm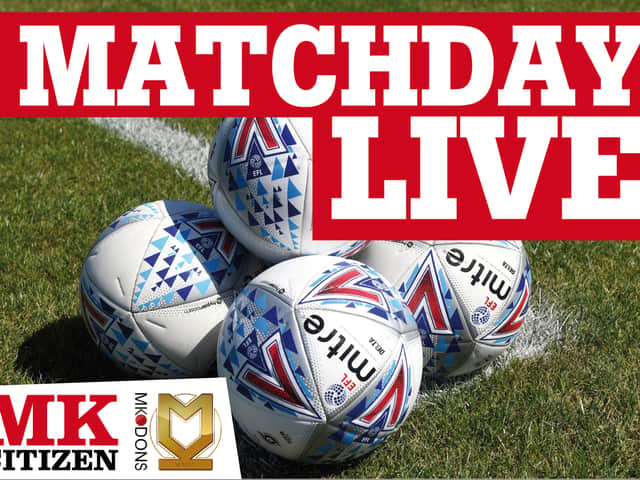 MK Dons take on Cambridge United in the League One season opener at the Abbey Stadium
Get the latest from the game.
Cambridge United 1-0 MK Dons - LIVE
Last updated: Saturday, 30 July, 2022, 17:00
FULL TIME: Cambridge U 1-0 MK Dons
Much improved in the second half, but still a lot to do from Liam Manning's side.
Trailing to Knibbs' 17th minute goal, they barely created a clear-cut chance at the Abbey Stadium, and while they didn't concede any opportunities at the other end, Cambridge were left with a relatively simple task of seeing the game out in the end.
Good from Matt Smith, promise shown from Daniel Oyegoke and there's something about Louie Barry as well, but ultimately it's opening day defeat.
82 mins: Dons make their final changes
Darragh Burns and Matt Dennis come on for Nathan Holland and Conor Grant.
The final roll of the dice now for Dons.
78 mins: Fizz being taken out of the game
Dons' advantage earlier in the second half has gone now, with Cambridge seemingly quite happy to smother Dons out in the attacking third to prevent them from carving anything remotely dangerous to Mitov's goal.
70 mins: A bizarre moment
Cambridge may be winning here with 20 minutes to go but it's two U's players who are arguing amongst each other, prompting words from the referee. Lloyd Jones and skipper Paul Digby are having to be kept apart. A word from teh ref though and play is allowed to continue without further interjection
61 mins: A double change for Dons
Henry Lawrence and Dan Kemp make way for two new debutants - Daniel Oyegoke and Louie Barry
57 mins: Grant almost nips in
O'Hora into the book for a foul, but Grant came just inches away seconds earlier from an equaliser after confusion between Okedina and Mitov sees the MK Dons man nip in before being downed, but no penalty.
52 mins: A renewed MK Dons
Finally MK Dons are playing some decent football and taking the game to Cambridge.
Dan Kemp was put through after some good football from Grigg and Smith in the build-up, before Bradley Johnson hits the sidenetting after the hosts struggle to clear a corner.
Second half
Back underway here - no changes for either side at the break
In the picture: Dan Kemp
Not a lot of joy for Dan Kemp so far on his first start for the club since arriving in January. It's not just him though...
Dan Kemp battles with Lloyd Jones as MK Dons struggle to make an impression on Cambridge United in the first half at the Abbey Stadium
HALF TIME: Cambridge lead at the break
Dons look very much like a side needing to gel, trail here to Knibbs' excellent solo strike. Smith hit the bar in the first minute but that's all she wrote in terms of chances really. Work to be done.