Williamson has the attributes to reach the top, says his assistant
Watson joined Williamson at MK Dons from Gateshead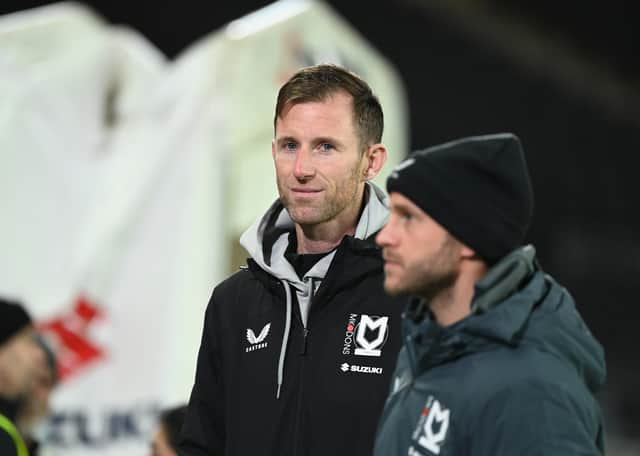 Head coach Mike Williamson has the potential to reach the top flight, according to his assistant Ian Watson.
Having worked together with the former Premier League defender for several years now, Watson feels Williamson has all the attributes to help the club climb back through the leagues from the fourth tier.
Following him from Gateshead, along with fellow coach Chris Bell, Watson said the trio felt it was an easy decision to make the shift 238 miles south to join MK Dons last month.
"I'm a Gateshead lad, but when an opportunity like this comes, you cannot turn it down," said Watson. "I've got no doubts about where Mike's career is going.
"He was ambitious to take on the job at Gateshead, and then when this came along, he told us it would be a good challenge for us to take on. It felt like the perfect fit.
"Mike is a real people person. He understands we all have our own ideas, and he's willing to listen. Every decision made is a discussion, Mike ultimately has the final say but he's very open minded to ideas.
"He's an unbelievable coach, and he sees the game a certain way, while me and Chris see it a certain way too, but we blend together well. We feel we can take on anything."
Watson continued: "I really love working with Mike and Chris, and I want that to continue for as long as possible, and I hope we can do that with MK Dons and that we can climb the leagues together."
Despite winning their opening game against Accrington Stanley, Dons have not lost in the league since the new management team joined the club, helping them jump up to 13th in the League Two standings. And though Dons appear to have turned a corner under the new regime, Watson said the endgame is still a long way off.
He said: "Getting wins on the board was important because we needed to shift the mentality. There is never any destination in football - Pep Guardiola has just won everything there is to win, but I'll bet he still wants to improve tomorrow. And that's the same with us. We want to keep getting better on and off the pitch, creating an energy around the club.
"I don't like to put targets on anything, but we always tell them to come in at one level, and leave at a higher one, and I feel like every day we've been here, the players have done that. I can't see it being anything other than successful."