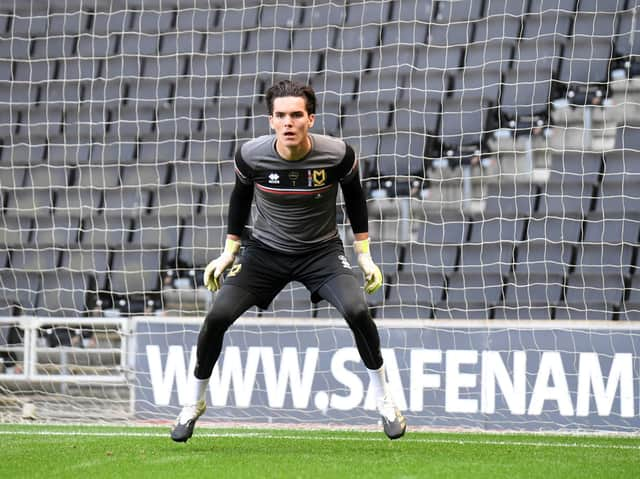 Lee Nicholls
Lee Nicholls future could lie elsewhere with his contract up at MK Dons this summer, but Russell Martin has heaped praise on the goalkeeper for helping the development of his replacement between the sticks.
Nicholls, who has made 157 appearances for the club since 2016, was one of the first to celebrate with Andrew Fisher following his stoppage time penalty save at Bristol Rovers on Tuesday night but hasn't seen any action himself since the 3-0 defeat to Sunderland in the Papa John's Trophy at the start of February.
Martin said: "Whatever happens with Lee moving forward, and we will have a chat about it because he is out of contract, his role over this period is something I will always be really grateful for."
Rather than dig his heels in and be disappointed by his lack of first team opportunities this season - he has made just 14 appearances - Nicholls has been a vocal member in the dugout, helping Fisher by passing on instructions throughout games.
And his attitude to being left out of the side is an element which has greatly endeared him to Martin, saying: "Lee's role in Fish's development cannot be understated. It would have been really easy for Le, who lost his place in the team, to not be helpful and to sit there and feel sorry for himself. But he has been incredible - like another coach.
"You can hear Lee, with there being no fans in, giving Fish information and praise, shouting at him before and celebrating with him after the penalty on Tuesday night, it's brilliant to see."