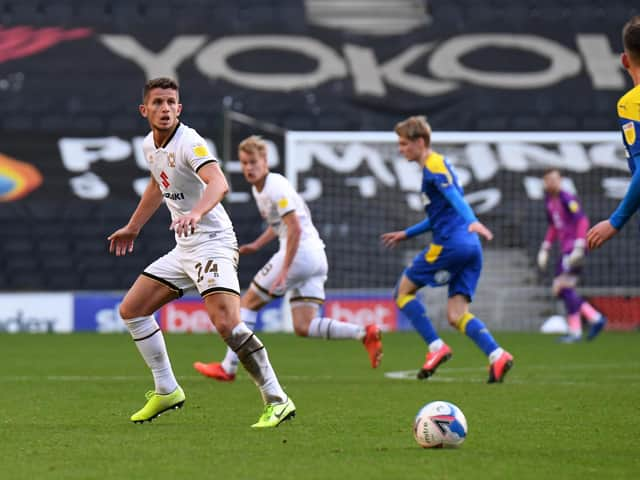 Jordan Houghton
The decision to release Jordan Houghton and Lee Nicholls at the end of the season was a tough one for Russell Martin but one he said he had to do.
The pair were two of the key men last season when the manager took over and brought about changing Dons' style of play to the system seen now. Nicholls passing to Houghton was the most frequent move in the early stages of Dons' development under Martin, but a little under 18 months after taking over, the pair will be plying their trade elsewhere.
Houghton and Nicholls will be joined by Joe Mason and Kieran Agard in leaving the club at the end of their contracts, while several others out of contract are still in talks regarding their future beyond the end of their current deals.
Speaking about Houghton and Nicholls, Martin said: "Wherever they go, there will be two clubs very lucky to have people like them. But I cannot make decisions based on sentiment and loyalty. We have to look forward and see what we need next.
"I love them both, we all do, and we wish them the very best.
"It has been really tough saying goodbye to Jordan and Lee - two guys who were arguably the two most important players for us last season. There was a huge amount of pressure on those two when we decided how we wanted to play and they took it in their stride.
"The change we saw in Jordan was huge, and this year he has been really unfortunate to get injured when he did and David Kasumu has elevated into the player he has. And we signed Andrew Surman as well, so it has been tough for Jordan.
"Lee Nicholls' support of Andrew Fisher has been so big to help him develop. To have that backing from someone like Lee has been so important.
"They have been huge on and off the pitch for us."
Mason already has a club lined up for next season, according to Martin, though he pair admitted his two-season stint at Stadium MK has not panned out the way either had hoped.
Martin continued: "Joe Mason is close to agreeing something somewhere else, but it has been frustrating not to get a run of games with him. When he's got going, something gets in the way. Last year, it was Covid, this year it's an injury niggle.
"He says he's really enjoyed it although it has been frustrating and it hasn't gone how he'd have liked it to. He's scored some important goals and I've loved working with him."