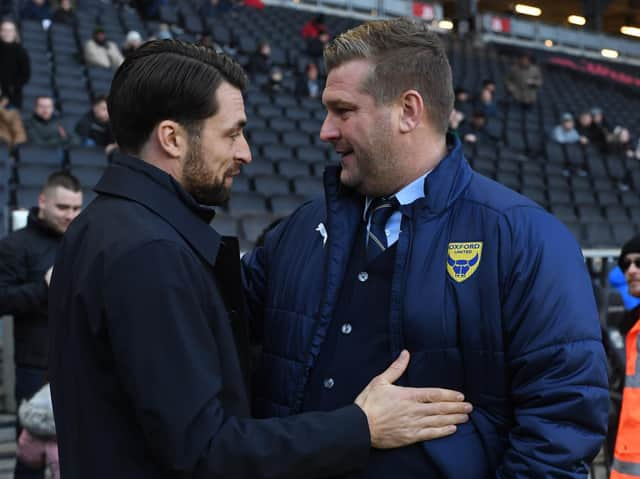 Russell Martin and Karl Robinson when the sides met last season
Karl Robinson's history at MK Dons will have no bearing on the game against Oxford United tomorrow, says Russell Martin.
U's boss Robinson spent six-and-a-half years at Stadium MK, guiding them to their only season in the Championship before leaving in 2016. He has crossed paths with Dons plenty of time since with both Oxford and his previous club Charlton Athletic too, but he is still a character fondly remembered by Dons supporters.
While the managers have crossed paths twice since Martin took over in November 2019, both have a win apiece but the Dons boss says there is no rivalry with Robinson based on his history with the club.
"Not for me," he said. "It's not about my ego or about their manager's ego. I have real respect for Karl and he's done so well with Oxford. I want to win no matter who their manager is.
"Coming back here probably adds a little bit for him – but it's the same for me."
When the sides met back in October, Dons typically fell behind early at the Kassam Stadium before Cameron Jerome squared things up after 11 minutes as Dons went on to control the opening half. But a poor second half allowed the U's to take control as they went on to claim a 3-2 win, jumping off the bottom of the table and replacing them with Dons in the process.
Since then, Dons have climbed to 13th, while Oxford are battling in eighth.
"It was really early on, both teams were in different form back then," Martin continued. "It's a sign of both teams coming a long way. Considering how much change we've had since then, to come as far as we've come is brilliant.
"We have to keep driving on now though, we're in a good position from where we are. It's been a fantastic effort, we're averaging 2 points per game over the last 11 games. We have to keep grinding now and have that relentless mindset to improve.
"Tomorrow is a good test to see how much both teams have changed since that game. I'm really looking forward to tomorrow.
"We've talked to the guys about the run we've got as it is teams up there in the form table and they'll all want to return to winning ways. When you have a defeat you need to bounce back quickly. It adds more intrigue and makes it more interesting."