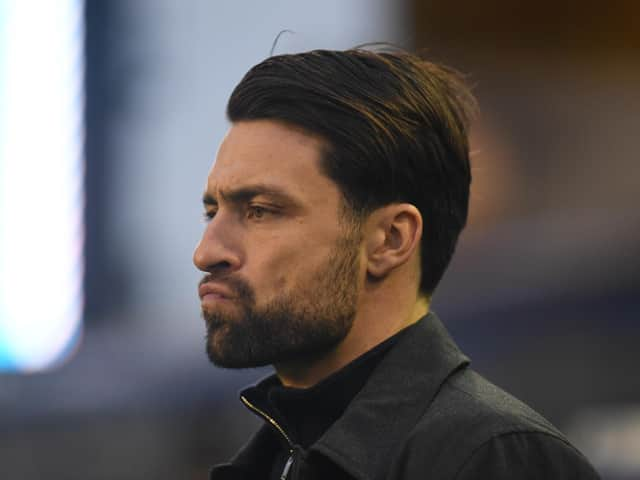 Russell Martin
Russell Martin cut a frustrated and angry figure after his side were beaten 2-1 by Portsmouth on Saturday.
It took just 60 seconds for Portsmouth to take the lead when Tom Naylor headed in from an early Pompey corner, but things appeared to be back on course when Scott Fraser netted 10 minutes later from the penalty spot. But when George Williams was adjudged to have hauled down Sean Raggett in the area on 25 minutes, Portsmouth were handed another opportunity to take the lead, and Ellis Harrison did the business.
Despite going on to dominate proceedings at Fratton Park, with 71 per cent possession and 19 shots on goal, Dons could not find a way though and remain bottom of the League One table, still seeking their first win of the campaign.
And their latest defeat left a mark on the manager afterwards.
"I'm fed up with being angry," he said. "I'm really hurt by us keep losing. Teams are working harder to stop us but we're putting ourselves into a position we fought so hard to get out of last season. We've dominated, we've been the better team but we haven't won.
"We gave them a headstart, got back in it and gave away a penalty. I'm not sure about the decision but we gave them the chance to do it. We had 19 shots away from home, eight in the box, numerous on target, but we give away two shots on target and concede two. I don't understand it.
"There is nothing wrong structurally or tactically because we dominate every game, we have more shots than the opposition, but we cannot defend key actions in our box. And then for as much as we created, we haven't got that killer instinct. Both boxes are letting us down. That comes down to mentality or desire, intensity. It's something we've worked on all week, which makes it even more hurtful. I feel sick, and really low."
Dons have gone behind in each of the five league games so far this season, and Naylor's header in the opening minute of the game gifted Portsmouth the best of starts, infuriating Martin in the process.
He added: "It's outrageous, borderline lunacy. We had the ball in secure possession in the middle of the pitch, it's a simple pass to make and somehow we lose the ball, we don't recover and they have a free man to head in the box. I don't understand how that happens. I trust the players but we have to be honest – that's not good enough.
"I'm emotional about it, I feel raw and they are letting themselves down. I don't know how much more they can do to try and win a game. They have to stop giving teams a headstart. It's crazy."