Sorinola is not for sale but everyone has a price
Matthew Sorinola has attracted attention from clubs at a higher level, but Russell Martin wants to keep him close
Monday, 14th December 2020, 12:46 pm
Updated
Monday, 14th December 2020, 12:52 pm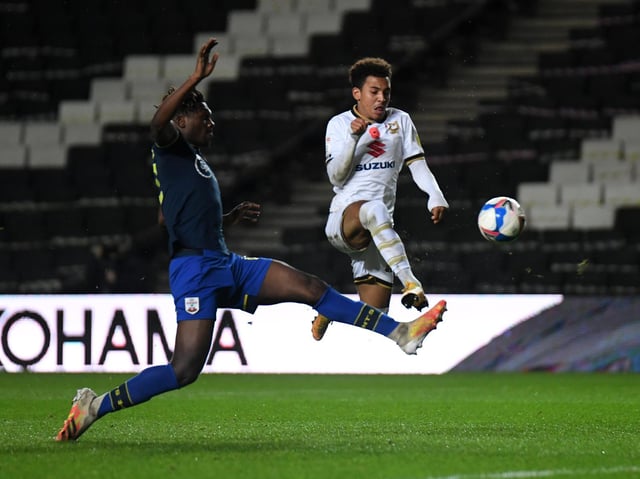 Matthew Sorinola
Given some of his performances this season, there is little surprise Matthew Sorinola has attracted attention from clubs at a higher level but Russell Martin is in no mood to let the youngster leave MK Dons just yet.
Having played a handful of Trophy and Cup games last season, Sorinola has become a regular name on the team-sheet this season, racking up 17 appearances already this term.
Reports over the weekend linked the 19-year-old to Premier League sides Leeds United and Newcastle United, as well as Championship club Middlesbrough as he continues to impress from the wing-back position.
"We didn't necessarily need to sell because the business has a way of being able to support each other," he said. "The money was too good to turn down for these guys: for where they were with us, where we were at. We don't have to sell, but every club outside the top four in the Premier League is a selling club because that's the nature of the business. In the summer, sales of players have helped keep the club alive.
"If we end up getting a valuation for any of our players, and it has to be big for players like Matty, and we get a substantial bid, I have to accept that might be one the chairman has to take.
"But we haven't had any conversations about that, or put a valuation on him because we don't want to sell him, and we don't need to sell him. I want to keep him here and have him improve with us."
The gathering interest in Sorinola's future comes as no surprise to manager Martin, who himself acted quickly to re-sign the teenager when he took over last November.
Martin continued: "He has been brilliant. He was on his way out the club when we took over because he was only on a short-term deal. I believe in his massively, so I felt it was important to sign him to help him develop and grow. It has happened even quicker than we expected, but it is no surprise to me that clubs are looking at him.
"My responsibility at the manager of this club is to bring an identity and a style that everyone is really clear on. By doing that, you add value to players, you improve them. And the way we play will do that. It will make other teams really aware of them. I had a lot of calls over lockdown from managers, heads of recruitment to talk about various players because of the stat they've seen. So we have to accept players will attract attention, and Matty is one of them.
"Young players will get better and develop, as he has done because of his attitude. So it's no real surprise to me. We want to keep our players, especially someone who is really early on in his career, he's got a lot of improvements to make, stuff to work on, but he's willing to do that.
"For me, it's another justification for what we're doing. It's never a problem to have people talking about our players in a positive manner.
"It's up to us to keep improving players and hold on to them for as long as possible. If we don't, we have to make sure it's a real benefit to the club."