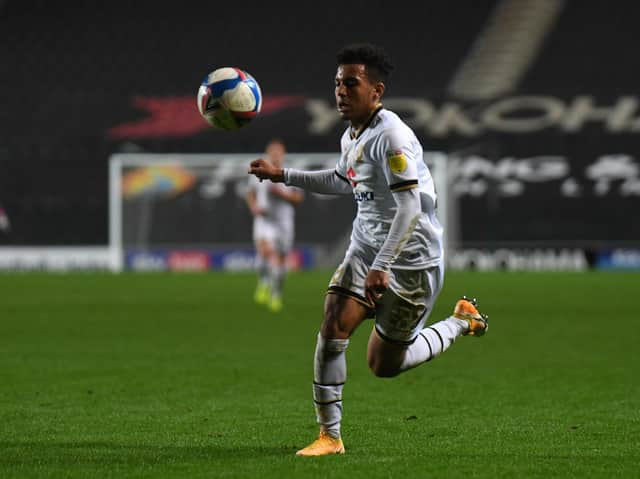 Matthew Sorinola
There has been no phonecall or communication from any club enquiring about Dons wing-back Matthew Sorinola, but manager Russell Martin believes he has been given bad advice from those around him.
The 19-year-old was on his way out of the club when Martin took over in November 2019, before he was given an extended deal to keep him at Stadium MK. Racking up 24 appearances this season, Sorinolahas thrust himself into the first-team spotlight with some stellar displays which, in Martin's mind, justified his desire to keep him when others thought to cut him loose.
However, with a new deal on the table to stay at MK1 and a rumour linking him with a move to Premier League Brighton, Martin believes Sorinola's advisors have been bad for him.
"I don't think he has been advised very well," said the manager. "He's a fantastic boy with a great attitude whose head has no doubt been turned in the last month, no doubt about it.
"I won't be unfair and hold it against him. I think this is the best place for him, other people don't. He has to take ownership of his own career at some point and decide what we wants.
"There hasn't been any interest in him, we've not had a single phonecall from any clubs. I saw the link with Brighton, but I know someone in every department at that club and I've not had one call.
"As it stands, he's our player, we want him to stay. We've offered him a new contract but we have to see how things go in the next three days and after that.
"I want people who are really committed to us, and repay the faith we show, and he has to show that.
"Despite it all though, he's training well and we still trust him to go out and do it on the pitch. He's given us everything he's got and he has to do that regardless of what happens. I'm open to seeing what happens in the next three days, but I'd be surprised having not had a call from anyone, but at the same time – who knows?"
For now, Martin believes Dons remains the best place for Sorinola to develop, and cited four other players as evidence to show how far a player can come at the club.
Martin continued: "Matt O'Riley turned down a contract at Fulham because he decided this is the best place for him to come and develop. David Kasumu has signed two new contracts since playing in the first team and has developed really well.
"Warren O'Hora has come in, attracted a lot of interested and wants to stay here permanently. Andrew Fisher has taken a pay-cut to come here and has earned a new contract very quickly.
"We want to reward players for commitment, good performances and buying into what we do. You don't need to look any further than that to see this is a good place to develop.
"Matty was getting released – he had a six-month contract when I took over and a lot of people were surprised when I wanted him to stay and to become a big player for us. It has taken time for him to get into a place where he can be a big player for us.
"In terms of numbers – assists and goals – he hasn't got enough for the amount of good positions he gets into.
"We know we're going to attract interest in our young players because of the way we play and the platform we give them. If you're good enough, you're old enough. We put a lot of trust and faith in Matty and he has real potential, but at this stage, it is still potential."