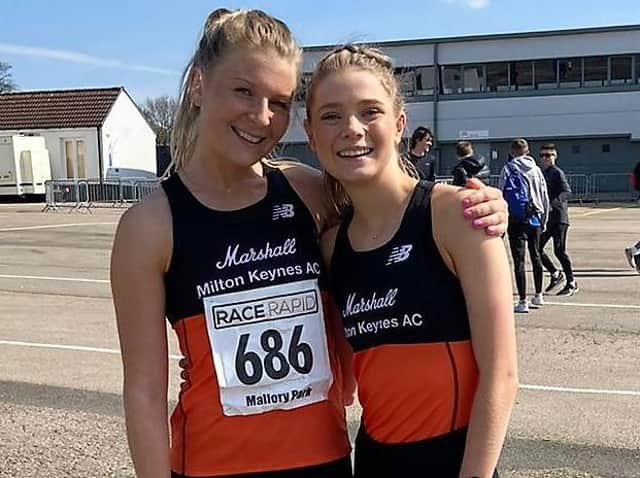 Elle Roche and Imogen King
Three MMKAC athletes competed in a series of 5km road races round Mallory Park motor racing circuit in Leicestershire
Running with Sam Winters, Elle Roche knocked 31 seconds off her best 5km time, set in 2019, to go second in the MMKAC All-time lists with 16:48, the fifth fastest female time of the day. Only Rachel Robinson's Club Record 16:40, set in 2018, remains ahead of her. Imogen King (F20) also set a personal best recording 17:36 and moving to 8th in the ladies all-time rankings
Two men ran the Dorney Lake half-marathon and Andy Cowdrill (MS) placed 32nd with a PB of 82:42 whilst Matt Turner(M40) finished 60th in 85.28, just missing a new PB by four seconds.
Last week, five local athletes kicked-off the delayed start to the 2021 track and field season competing in an open meeting at Nuneaton and braved the bitterly cold conditions.
Female throwers Lara Moffat and Hayley Dimond were the most successful. Lara placed third in the ladies hammer event throwing a near personal best with the 4kg implement, 50.60m. Hayley won the F17 shot (12.08m) and set personal bests clocked 27.47 in the 200m and high jumping 1.50m. In the men's hammer James Ericson-Nicholls threw 48.02m
George Mbofana (M23) and Paul Canning (M50) contested the sprint events. George ran 12.49 in the 100m and 25.47 for the 200m. Paul clocked 12.85 in the 100m and then 62.37 for the 400m.