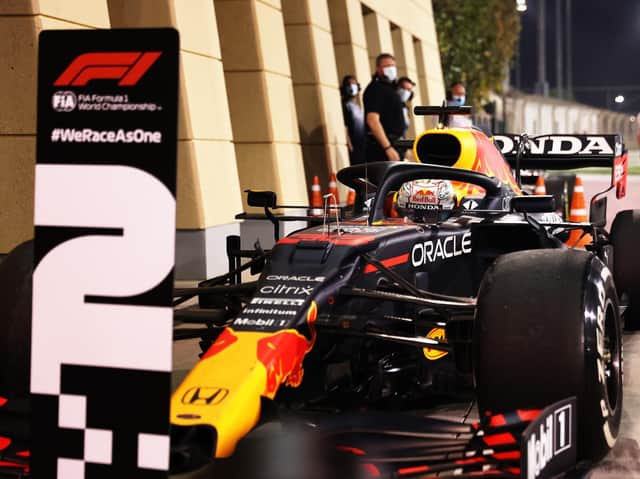 Max Verstappen had to settle for second spot in Bahrain
Max Verstappen cut a dispondant figure on the podium at the Bahrain Grand Prix after narrowly missing out on victory against Lewis Hamilton on Sunday.
The Dutcham started from pole position, but two under-cut stops from the Mercedes team allowed Hamilton to take the lead and become the hunted in the latter stages as Verstappen took the fight to the champion.
Within touching distance with six laps to go, Verstappen watched Hamilton run wide at the tough Turn 10 before trying to make the move stick at Turn 4 a couple of laps later around the outside. But he carried too much speed into the corner and ran off the track on exit, and was advised to give the spot back on the back-straight.
From there, Verstappen dirtied his tyres and was unable to get back in touch with Hamilton, who claimed his 96th career victory by less than a second.
Speaking afterwards, he said: "Mercedes did the undercut but we stuck to our strategy which was working fine, the problem is that with these cars, it's so hard to pass and once you have that track position it's pretty powerful.
"As soon as I got close enough to Lewis I had one shot and I just went outside of the track at Turn 4 so I gave the position back, but by then my tyres weren't in a good state anymore to put the pressure on."
Hamilton cruised to his seventh world title last season, but Verstappen was the pick of the drivers in pre-season testing and topped all of the sessions in Bahrain except the race. He is expected to take the challenge to the Mercedes driver this season, and he remains hopeful despite missing out in the season opener.
"We definitely made good steps forward today," he said. "It's of course a shame not to get the win. We have to look at the positives, we are taking the fight to Mercedes and I think that's great, it's good to start the season this way and we managed to score some good points for the team.
"We will analyse what we can do better as there are always things you can improve and it's great to get Honda's 200th podium this weekend. Now it's full focus on the next race."