'Magical' night at The 100 Club captured on record as Andy Crofts releases new LP
"I did The 100 Club and there was something magical about the night."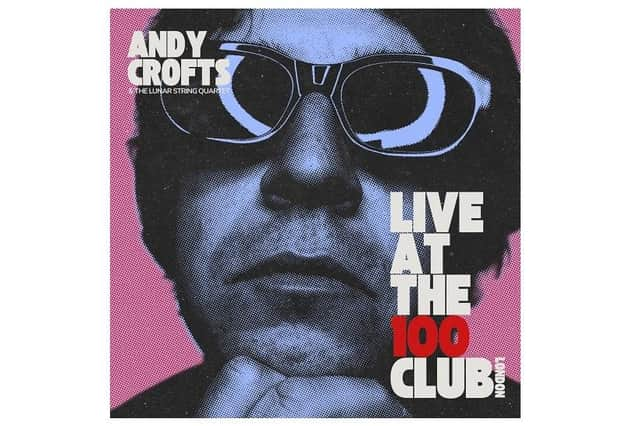 Northampton singer / songwriter Andy Crofts is celebrating the release of his new album, which is called Live At The 100 Club.
And he will be marking the LP hitting the streets and streaming services with a gig at The Black Prince in Northampton town centre on Sunday night (Nov 19).
The album is released today (Friday, Nov 17), and is a record of Crofts' gig at the famous Oxford Street venue last year, when The Moons front man was accompanied on stage by the The Lunar String Quartet.
It turned out to be a special night for Crofts and those in attendance, and luckily enough, Crofts had recorded the full thing on his laptop, and that led to him releasing his new album.
"I did the 100 Club and there was something magical about the night," said Crofts.
"I actually took my laptop along, plugged it in and recorded the whole show.
"Listening back I thought 'do you know what? There is something nice about this', there's a spontaneity to it, and it feels quite exciting."
The recording wasn't perfect, but was more than good enough to put together a 14-track LP, with Crofts getting a little bit of help from an old pal to get it all together.
"There were a few goblins in the system so a few songs had to be scrapped, but in general it sounded great," said Crofts, who hails from Northampton and grew up in the town.
"So I got my good friend Luke Goddard, who is from Northampton and the drummer with one of my old bands The On-Offs, and he mixed and produced it all for me.
"And it has turned out to be a really nice album."
The LP is a trawl through Crofts' catalogue of tunes written for The Moons as well as solo projects, including the likes of Chinese Whispers, The Old Brigade, The Lone Wolf and Sometimes.
Crofts, who was a member of music legend Paul Weller's touring and recording band for close to 15 years before having to step down from that role last year, is now based in Worthing.
And to celebrate the release of the record, he is embarking on an eight-date UK tour, which kicks off in London on Saturday before he heads to The Black Prince on Abington Square 24 hours later.
Doors open at 7pm on Sunday, and tickets are available to buy now in advance from theblackprincenn.com, priced at £11.25 which includes the booking fee.
Support on Sunday comes from London-based Trinidad-born singer-songwriter Toni Sancho, who has just released her new single called Goodbye!
The LP, Live At The 100 Club, is released today (Nov 17), with the limited edition transparent red/blue vinyl also available from cargorecordsdirect.co.uk, priced at £21.99 plus delivery.
It is released on Crofts' own Colorama Records label.
The album is also available to download and stream from all the usual providers.
LP 'Live At The 100 Club' tracklist: 1 - Chinese Whispers; 2 - Sometimes; 3 - The Old Brigade; 4 - How Long?; 5 - Sleep; 6 - Westway; 7 - Far Away; 8 - Maybe I'm The Perfect Man (For You); 9 - English Summer; 10 - Wondering; 11 - The Lone Wolf; 12 - Isolation; 13 - Jennifer (Sits Alone); 14 - An Ordinary Romance